Don't forget Me Tomorrow  by AL Jackson
Don't Forget Me Tomorrow" by Al Jackson – Book 2 in the Time River Series, Audiobook Narrated by Samantha Brentmoor and Connor Crais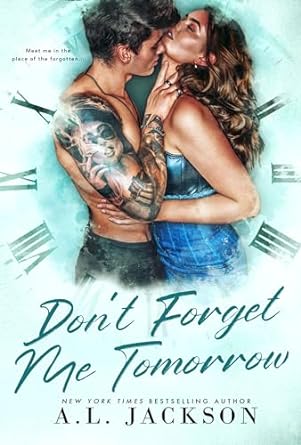 In the second installment of the Time River Series, Al Jackson once again delivers an enthralling story that had me completely captivated from start to finish. This time, the spotlight is on Ryder, Dakota, and Kayden, a trio of characters who stole my heart with their complex dynamics and undeniable chemistry.
Ryder's secret crush on Dakota, despite her being off-limits, sets the stage for a tantalizingly forbidden romance. When danger enters the lives of Dakota and Kayden, Ryder steps in, bringing them under his protective wing. This move leads to a cascade of events that are both heartwarming and sizzling with passion.
Al Jackson's storytelling prowess shines through as she masterfully builds her characters and their relationships. Ryder emerges as a hero who is not only loyal and caring but fiercely protective of those he holds dear, including Dakota and Kayden. Their interactions are a delightful mix of witty banter and emotions that have been simmering beneath the surface for far too long. And when they finally give in to their desires, the sparks fly, setting the pages ablaze.
"Don't Forget Me Tomorrow" seamlessly adds to the allure of the Time River Series, solidifying its position as a personal favorite. The characters are so endearing that I can't get enough of them. Kayden, in particular, with his infectious charm, adds a heartwarming touch to the story. Ryder, Dakota, and their evolving love story left me with a warm and contented feeling, and I find myself eagerly anticipating the opportunity to revisit their world again and again.
In conclusion, Al Jackson's "Don't Forget Me Tomorrow" is a must-read addition to the Time River Series. With its irresistible characters, richly woven narrative, and scorching romance, it's a book that's bound to leave a lasting impression on anyone who delves into its pages.