Love Me Today by AL Jackson
Love Me Today by A.L Jackson is the just what my heart needed.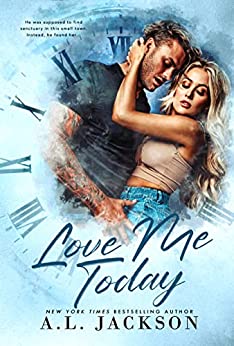 Time River is a new series and I am hoping we will spend a whole lot of time here. There are so many characters and stories I am desperate for.
It has taken me a couple of days to write this review because I just loved this book so much. I loved Paisley. Caleb, while he is a bit of a jerk, he won my heart with his actions and care. Evelyn is the brightest light in this book. Honestly the feels and this story brought me to my knees. I cannot express in words how much I loved this book.
Paisley Dae character that truly brought this book to life. Paisley was such a relatable and resilient heroine. Her journey of healing and finding her place in her hometown was captivating. I couldn't help but cheer for her as she pursued her passion for horse training, despite the obstacles she faced.
Caleb, on the other hand, was the epitome of brooding and guarded. His initial standoffish demeanor and the unexpected encounter with Paisley added an extra layer of tension and intrigue to the story. As their paths continued to intertwine at the ranch, their animosity slowly transformed into a magnetic attraction that neither could ignore.
But it wasn't just the sizzling chemistry between Paisley and Caleb that held my attention. The addition of Evelyn, Caleb's adorable daughter, added a heartwarming element to the narrative. Both Paisley and Evelyn were seeking something to care about, and their connection formed a beautiful bond that melted my heart.
A.L Jackson's writing style was immersive and emotive, effortlessly capturing the emotions and struggles of the characters. The way she blended romance, suspense, and the small-town setting was masterful. The audiobook performances by Joe Arden and Andi Arndt truly brought the story to life, enhancing the already engaging narrative.
If you enjoy a single dad, small town, grumpy sunshine romance you absolutely need to put this book on your radar. I read this in a day and it was "my favorite day". If I could give this book 100 stars I would.
AL Jackson crafts a lyrical story that has you living with in each movement and waiting for with breathless anticipation for the next crescendo of the story. The audio book is narrated by two amazing Narrators Andi Arndt and Joe Arden together they bring the words of this story to life creating imagery to this phenomenal tension and chemistry filles story.
Book Stats:
Rating 5/5
Series: Time River
Tropes: kidnapping, billionaire, alphahole, boss, close-proximity, damaged-hero, danger-stalker-kidnapping, dirty-talker, family-series, grumpy-sunshine, instant-attraction, level-3-steam, meet-cute, nanny-romance, protector, sex-toys, single-dad, slow-burn, stern-brunch-daddy, suspense