A book box of disappointment
On Friday April 22nd I was so excited to read the final line up of The Last Chapter Bookstore's Taboo Book Box. I had ordered the box days before the line up was announced. I had missed out on the the Single Dad Box and I was not going to miss this! The line up of authors participating in the box was beyond what I could imagine some of my most favorite taboo authors were on the list.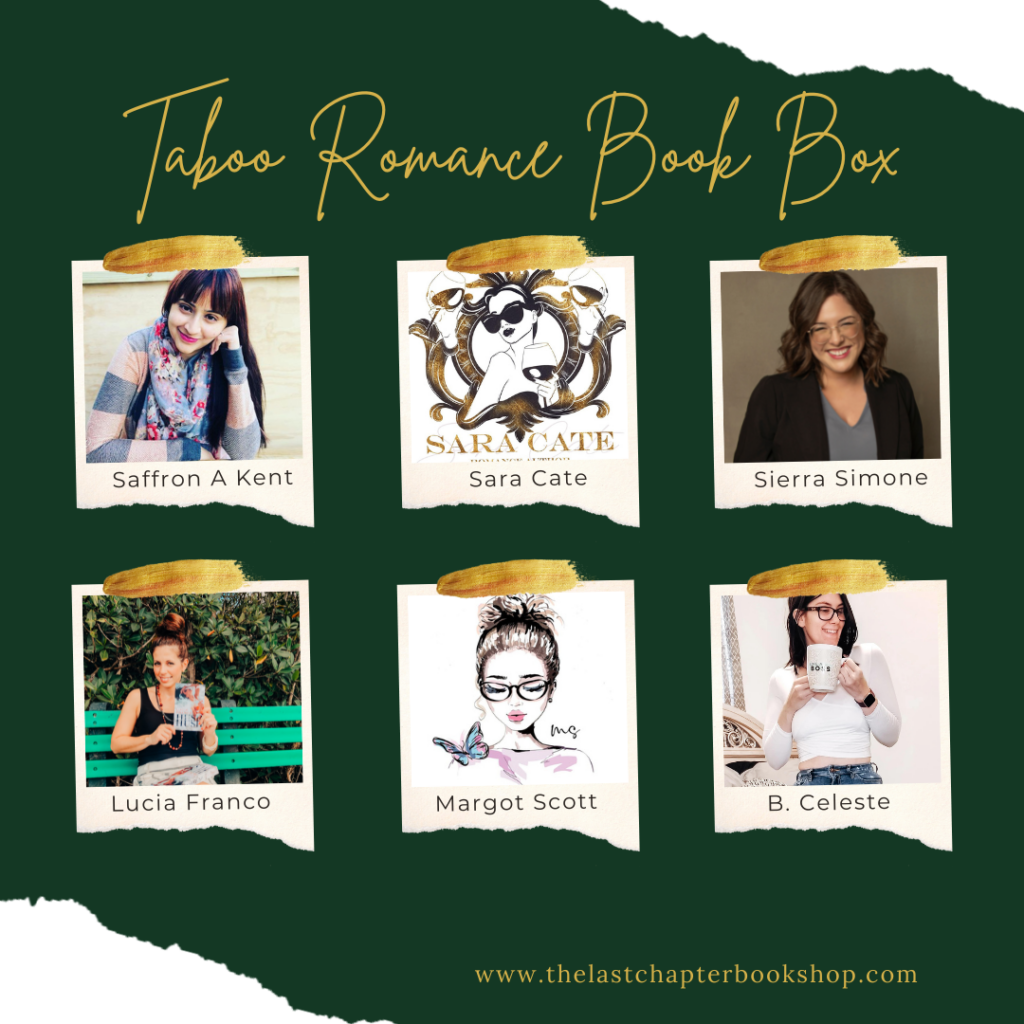 The Box cost with shipping was $151.00. At the time of purchase we did not know which titles or swag we would receive but we knew it would be good with this author line up. The book was expected to hit our mail boxes around June 1st!
Shortly before orders shipped we received notice from the shop that 2 of the 6 books had been printed incorrectly. The shop made the choice to ship us the box minus these 2 books and once they had the new copies they would ship them on. While disappointed I would not get all the books at once this was something out of their control and right now printing can take time. We were given a discount code to use with in the shop to make up for the delay. But my faith in this company was now teetering. My skeptical brain started to have concerns.
My box arrived on June 10th. I was so underwhelmed. Never have I been so disappointed in a book box. I had splurged on this box and it did not live up to expectations at all. First of the packaging. It felt like the books were just thrown in. Each book did come in a cellophane wrap to protect it in the shipping process.
Let's start with The Swag. I always am excited to see how authors and book boxes curate swag and are inspired to help engage and excite readers. This was not the case with this particular box. The Swag was junky and cheap. It was lack luster and I was left disappointed. The shot glass is plastic. The key chain was cheap. For Eyes on Me , a black hair tie from the dollar store?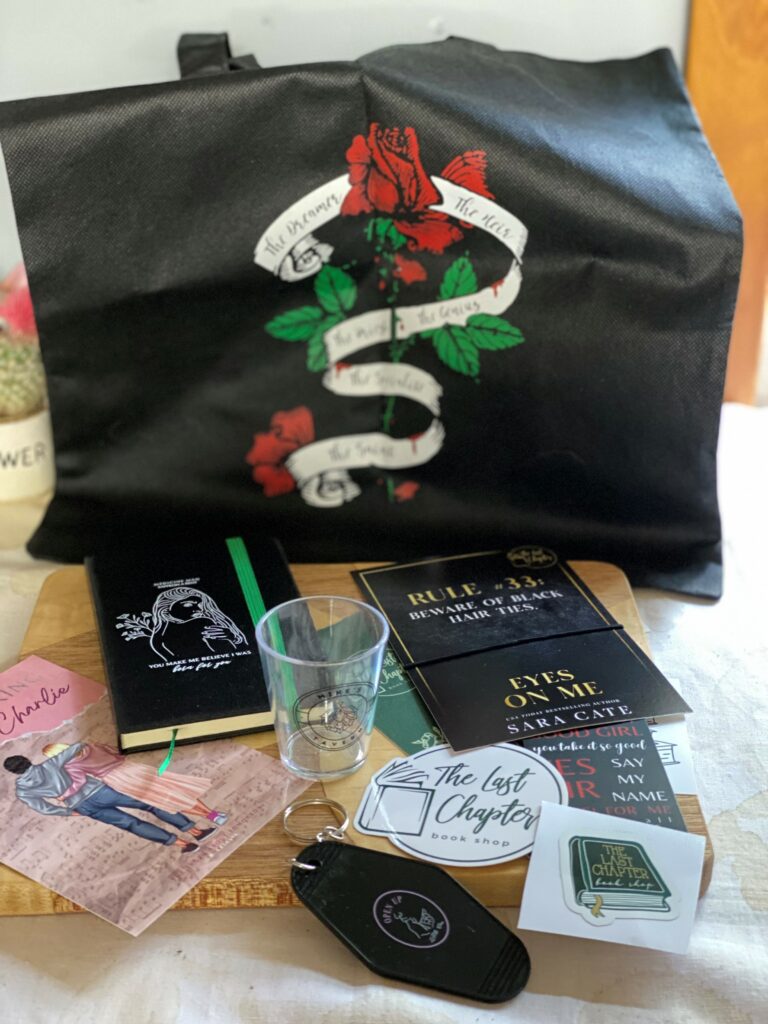 But that is ok because we are here for the 6 books and the exclusive covers.
The first 4 books I received were fine for the most part. They were all matte covers, which I love. Each Cover was unique to the story. There were some problems. Medicine Man by Saffron A. Kent did not have a title page or copy rights page. Which as someone who deals with bookish matter this is not great. In my opinion it show that who ever formatted the book was new to the process or in a hurry. The other 3 I received that day did have title pages and copy rights. Eyes on Me was by far the most well done and formatted beautifully inside the book. There was art work with in the pages and inverted designs.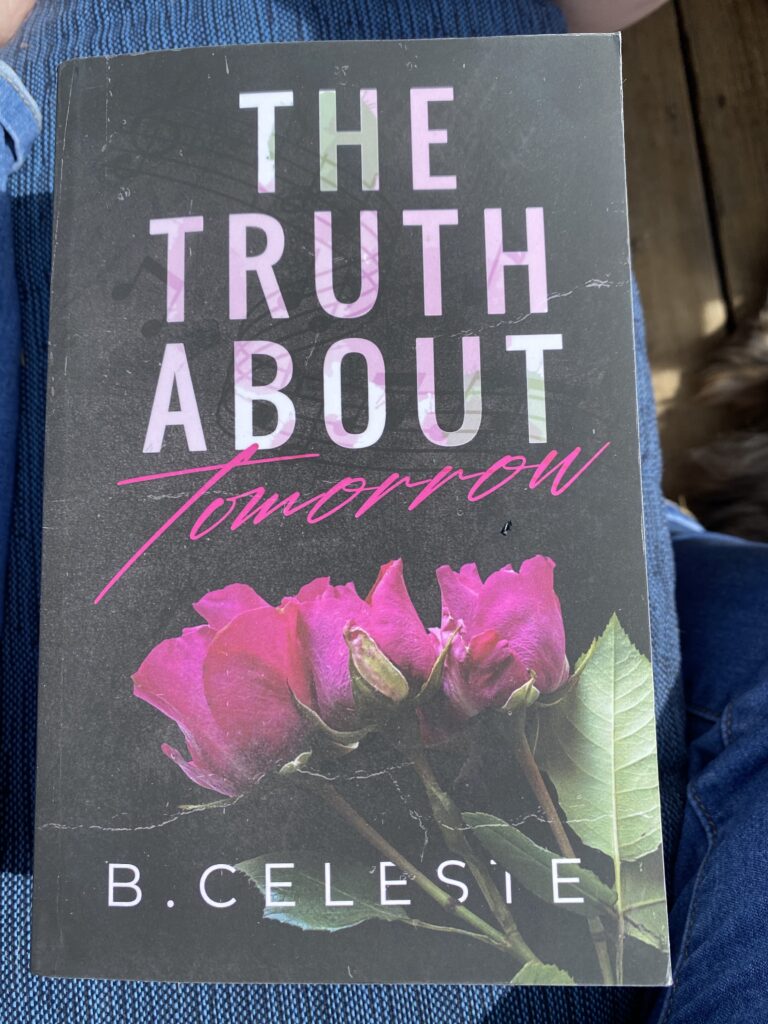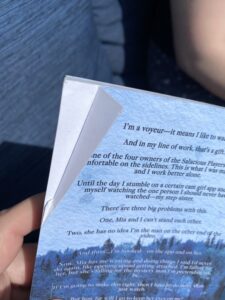 My original copy of Eyes on Me did have a bent cover. The shop did request I ship it back, once they received the copy they would send a replacement. The emailed me a pre-paid label to do this. A couple of things with this… I ship things often so I had an envelope to ship it back. The box the books came in was huge. It would have been a mess if I had used that box to ship it back. Response time from the shop was about 3 days to my initial email. Instructions for their process did go to my junk email box so had I not checked that I would have missed it. I did receive my replacement copy about 10 days later.
In the midst of all this chaos I did receive a random copy of Eyes on Me in the mail. I quickly emailed the company to let them know I received and extra copy. They requested I mail it back which I have done.
On Friday July 7th I received the final 2 books for the box. The covers are beautiful and matte. Yet neither book had title pages, but they did have copy rights listed. They had absolutely no art work with in the book. They were incredibly basic.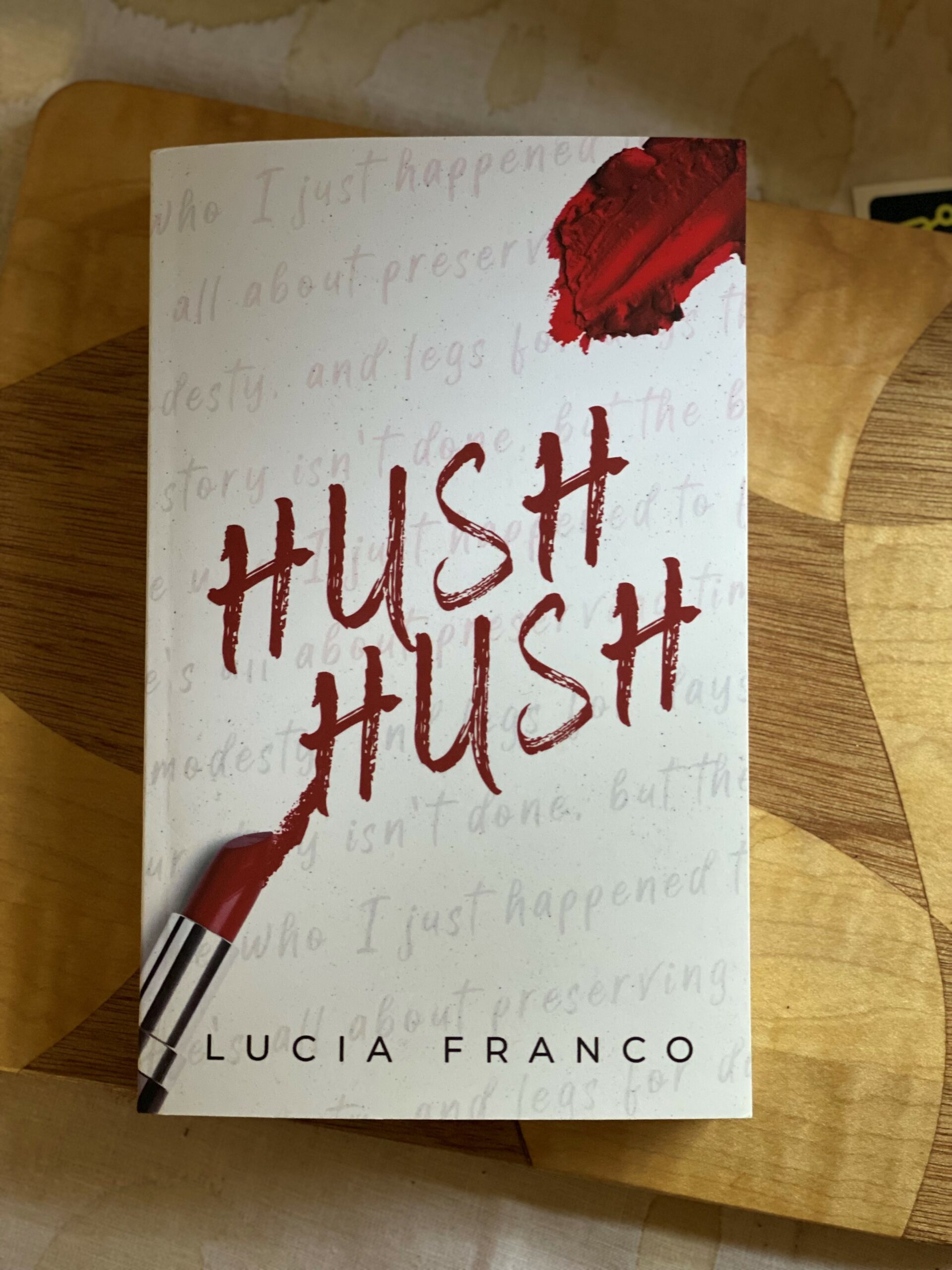 But that is not the worst part! Hush, Hush by Lucia Franco is completely missing chapter 5. Honestly what a disappointment. It feels like this box was done by complete amateurs. This was not the first box this company had curated. I know it was very popular for them and had some big named authors with in it but it did not meet expectations. While there were printing issues that were not the companies fault, a missing chapter is absolutely the formatters fault. Shame on them for not having a better check system in place.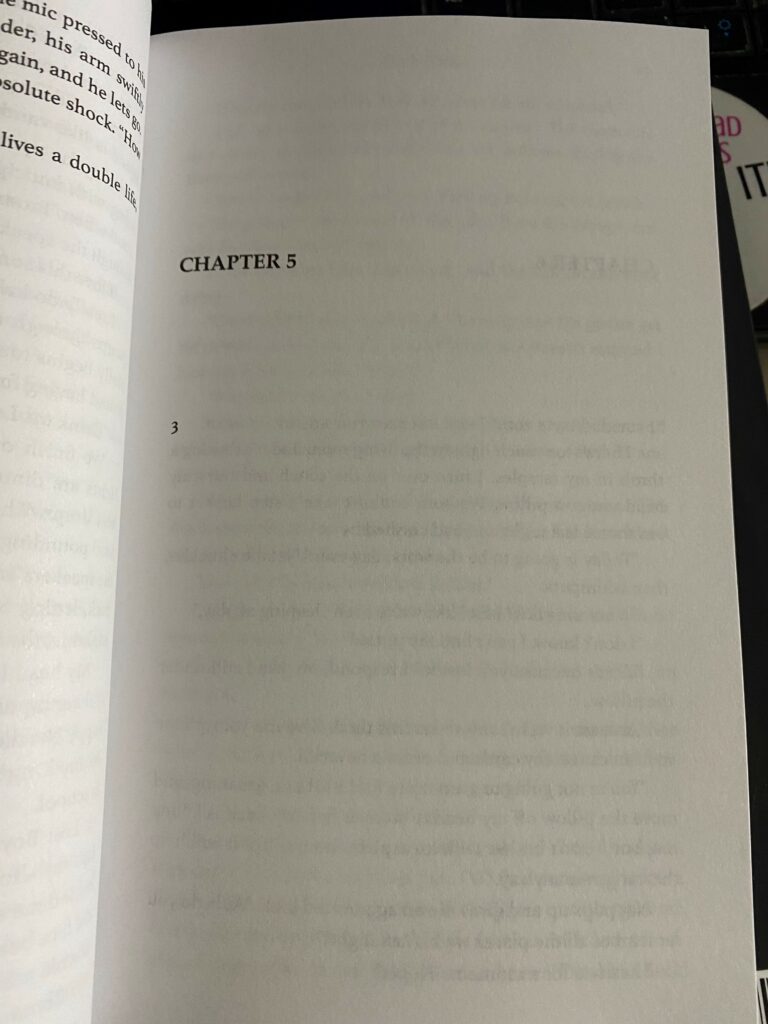 Once the owner of the company was made aware of the missing chapter she did respond with the following on Facebook. As of publishing of this review I have not yet received an official email from the company with the promised pieces in this Facebook Post. I will update once we do.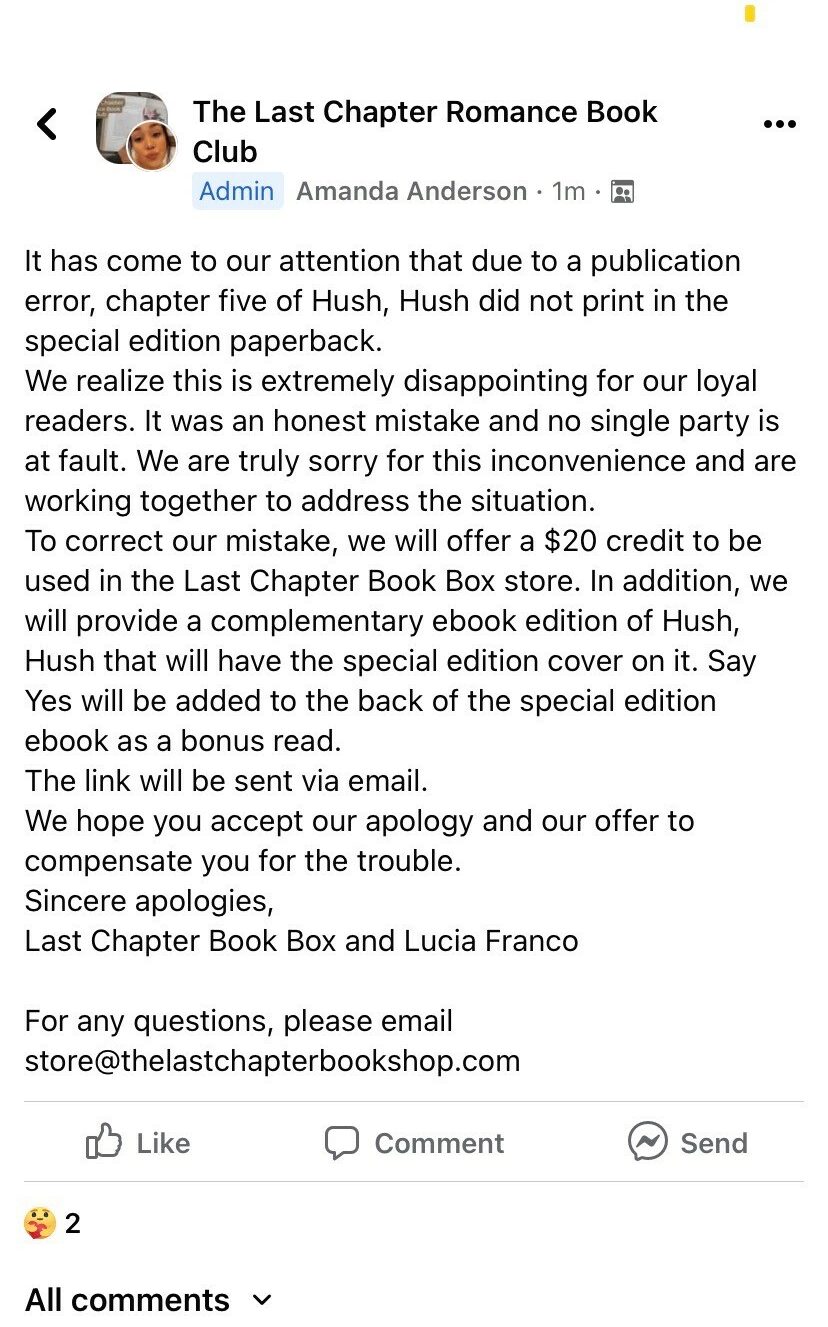 But at the end of the day I will say I am not a happy person. I am not pleased with the box. I am super disappointed in the quality of the box. Even with the discount code and promise of the $20 credit I do not want to purchase anything from this store. I would like the $20 credited back to my card. The interactions have been less than stellar with this company and I would warn any shopper or author to do their research before going into business with them. I just feel like this was a money grab with no real care about the product they were putting out in the world. I love romance books and I am sucker for exclusive covers and book boxes. I have bought many. There are tons of boxes out in the marketplace to choose from and this one I am not planning on giving anymore money to at this time. I am typically pleased with most anything book related, I am not sure this company can redeem themselves for me to purchase again.
Update: as of 7/14 11:30a est I did receive the offer as promised above. I am glad they made the good on the promise it is still disappointing that the book is unreadable.
Update #2: I did request the $20 credit to my card and was denied. The owner of the store feels that it is a fair an equitable solution for the $20 credits for the 2 large mistakes. Because of the shipping and such it would cost me out of pocket to buy t-shirts in my size. I truly do not need mugs, candles or a $20 tote bag.