Wreck and Ruin by Emma Slate
Wreck and Ruin was my first Read by author Emma Slate. Picked up this book up when it was a free or on sale book.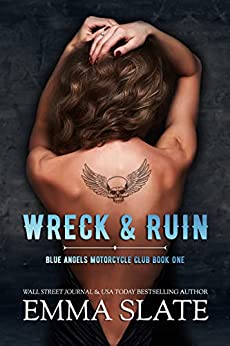 I am just starting my journey into the MC Romance Sub genre. I am not a huge fan of MC culture; I am always hesitant going into these books. You can follow along on my MC Journey here
On to the review.
I will say this book definitely exceeded my expectations! It was a mostly ok read for me.  
From the very first chapter, I found myself engaged in the story, eagerly anticipating the characters' reactions and eagerly awaiting what would happen next. There was some pacing issues to the story. It was incredibly slow in the world building. The author captured the essence of what one expects from a character in the MC world. The heroine is dynamic but her hesitation and lack of commitment to the Hero started to drag the book by 30%
Mia is sassy and independent, and Colt had to work hard to get past her walls. Colt is very much the alpha male hero. He has a surly attitude, beard, and fierce protectiveness that you expect from a MC hero.
Here is my big BUT… He never… I mean NEVER takes her on a ride on his Bike not even in the epilogue. There are reasons in the timeline that prevent it in the main story line but the epilogue is 1 year later… This doesn't work for me.
I do wish the author had given characters Zip and Joni their own book or novella.
The book is full of twists and turns, yet it does at times feel slow and added pieces for no purpose.  The story is captivating from start to finish. With a few pacing and storyline hiccups. I did enjoy the book and am intrigued for other characters stories.  
Book Stats:
Rating: 3.5/5
Series: Blue Angels Motorcycle Club
Tropes: Meet-cute, instant connection, Protector romance, Possessive Alpha Hole, rescue romance, Slow Burn
POV: Single 1st person- Only Mia's accounting
Pop: 30%