Wood You Marry Me by Daphne Elliott
Wood You Marry Me by Daphne Elliott is book 2 in the Lovewell lumberjack series.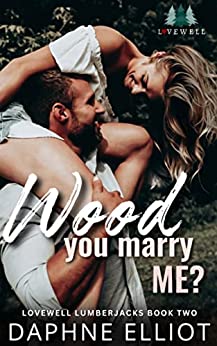 I have mixed emotions regarding this book. I approached it as a standalone, is the second book in a series, so I may have missed out on some important details from the first book. However, the author assured readers that it could be enjoyed independently.
Firstly, I must commend the author for creating a charming small-town setting with a delightful New England ambiance. The characters were endearing, and their initial encounter, involving a sacrificial blueberry pie, was a memorable "re-meet cute."
The central premise revolves around a marriage of convenience: one character requires surgery while the other needs to impress potential sponsors. Remy, the youngest son of a lumber family, is grappling with the aftermath of a painful breakup. Within a year, he lost his father and discovered his fiancée was cheating on him, leading to deep emotional wounds. Meanwhile, Hazel, who hails from the wrong side of the tracks, is only in town for a year to work on her PhD in Public Health. Her past is fraught with baggage, particularly concerning her mother's addiction, and her brother still resides in the town.
Initially agreeing to keep their relationship strictly platonic since they are friends, their interactions gradually evolve beyond that boundary. Remy consistently supports Hazel, while she champions him in return. However, I found the lack of significant tension between them disappointing. While I appreciate well-communicating adults, I believe the story could have benefited from more banter and flirtation to enhance their chemistry.
Furthermore, there is an ongoing mystery introduced in the first book, which unravels further in this installment, but unfortunately, it remains unresolved. Another aspect that bothered me was the lack of likable siblings for Remy. None of them came across as appealing characters in this book.
Certain elements were introduced, such as wife-carrying and lumberjack competitions, but the outcomes and their significance were left unexplored. This was particularly frustrating as a significant portion of the book was devoted to planning and training for these events.
The book concludes with the decision of the main characters to remain together, but no further resolution is provided. Questions about what comes next, such as the national competition, are left unanswered. The ending felt abrupt, with "I love yous" exchanged, but no closure or glimpse into the future.
Book Stats:
Rating: 3/5
Series: Lovewell Lumberjacks
Tropes: small town, slow burn, siblings best friend, sports romance, childhood friends, slight suspense