Unpredictable By Jenna Hartley
Harrison and Juliana.
I would like to take a moment and just bask in the hotness that is an older man who knows what he is doing! Harrison is plain and simply F-I-N-E!! He might be the BEST silver fox I have read in a while. He was sweet and sexy. He really had his shit together! I can not even begin to tell you how sexy it is when a dad is so good to his daughter. From the very beginning you fall in love with Harrison and how much he cares for his child. I am in complete and utter love with him. Harrison might have slipped right into my number one book boyfriend slot.
Juliana come to the relationship with a lot of baggage. I do like how she seems to shed it and for the first time in two years be all in on life. She is taking chances and finding her own happiness. You were able to visualize her grasping her power back. I can't imagine the grief and uncertainty she has lived with but as you read her story you absolutely feel her breaking free from the grief and living. It was such an emotional story.
I really like Harrison and Juliana together. While they do have an instant attraction and heat, totally played out well in their meet cute, there is more there. They have this intensity that you usually find in a slow burn romance. This story has the perfect balance of drama and heat. While keeping their relationship secret, Harrison's ex-wife and Juliana's missing fiancé has the possibility of destroying them and the story blowing up it is written in a very balanced enjoyable way. The agonizers of the story help you fall more in love with the story and the couple.


I loved this story.  This was a 5/5 read for me and likely will be a re-read very soon. I need more Harrison in my life.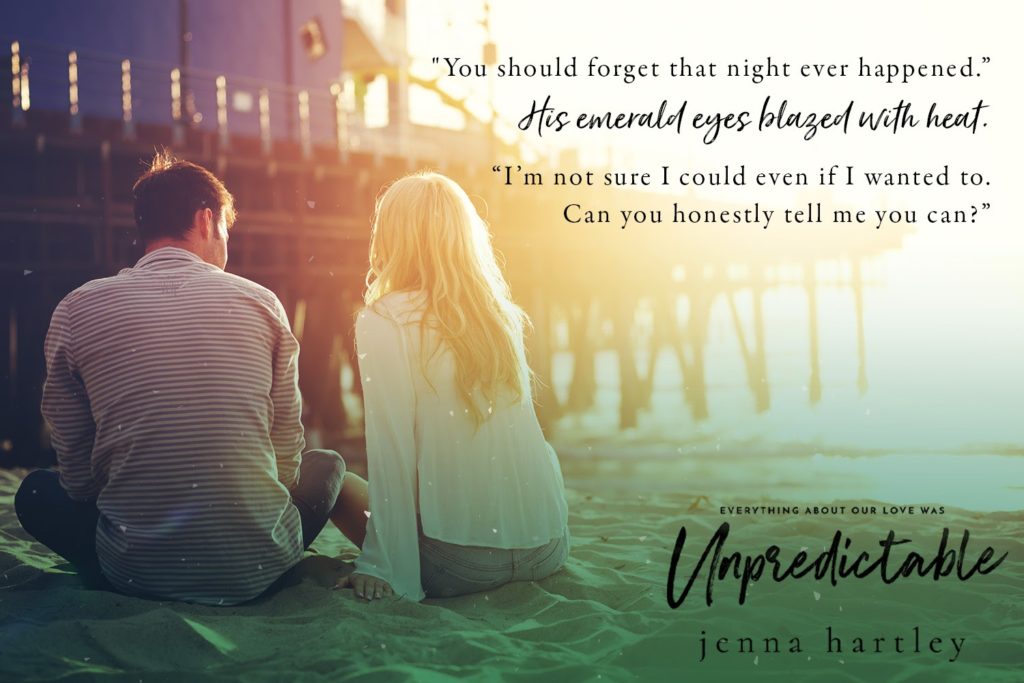 https://www.authorjennahartley.com/unpredictable-excerpt

and #oneclick this amazing story today!
?Preorder Unpredictable: https://bit.ly/UnpredictableLA
?Add to your TBR:

https://bit.ly/UnpredictableTBR
? FREE in #KindleUnlimited
?Standalone Romance
Don't miss out on any of Jenna's upcoming books, giveaways, and important
news! Sign up for her bi-monthly newsletter!

https://bit.ly/JennaHartleyNews
Cover Design: LJ Anderson of Mayhem Cover Creations
About Jenna Hartley
Contemporary romance author, Jenna Hartley writes about strong, independent
women and the men who dare to love them. Her characters aren't perfect;
they're authentic. Her passion is to make their stories feel as real for
readers as they do to her, infusing each one with sexy, sweet, and
laughable moments that reflect real love.
When she's not writing, Jenna spends her days chasing after a hilarious and
imaginative toddler, as well as hunting down new allergy-friendly recipes
for them to cook together. She lives in Texas with her family and loves
nothing more than a good book, good chocolate, and Topo Chico.
✶ Read Jenna's books FREE in Kindle Unlimited:
amazon.com/author/jennahartley
✶ Instagram: https://bit.ly/JennaHartleyIG
✶ Bookbub: https://bit.ly/JennaHartleyBB
✶ Facebook: https://bit.ly/JennaHartleyFB
✶ Goodreads: https://bit.ly/JennaHartleyGR
✶ Website:

https://www.authorjennahartley.com
✶ Join the Hopeful Romantics:

https://www.facebook.com/groups/hartleyshopefulromantics/