Troublemaker by Jessica Peterson
Troublemaker by Jessica Peterson is book 2 in the Sex & Bond Series.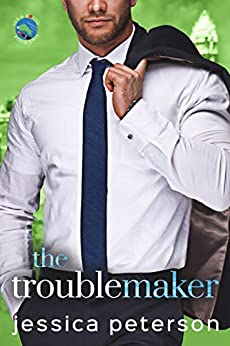 This book had a promising start. But if I am honest it quickly fell off for me. I do think the portrayal of Brooks and Greer's friendship, was great. The characters are likeable and memorable. I think my disconnect comes down to the author's writing choices.
Brooks and Greer are great characters. The author gives us small insights into who they are more so Greer and his struggle with his grief and loss of his sister. The author made the choice to hint at Greer's family but we only ever meet the brother. I felt like this created a plot hole. The reader does not get to know Greer much at all other than she is hard working. Her bakery is her passion but that is it. Oh, and she is a virgin. There was not much given to us about her feelings and emotions. I guess it comes down to her whys.
Although Brooks' father George's anger was off-putting, I found it commendable that both Brooks and Greer addressed the issue, effectively resolving the conflict. While the resolution of Brooks' parents' problem seemed effortless, I still appreciated Greer's conversation with them and the brief but meaningful interaction between Brooks and his father.
The ending portion of the book redeemed it for me. I appreciated the humor, and the way Brooks and Greer confronted the challenges presented by their families and those who might oppose their relationship.
While this book had the potential to be exceptional, it suffered from a lack of development and a slow pace in the middle. The spa and murder podcast were fillers. The author's choice to break the fourth wall was not well executed. The pacing suddenly shifted to a rapid tempo, providing insufficient opportunity to explore the interactions between Brooks and Greer.
I am on the fence about this author. Having only read one other book by the author I am not sure where I go from here.
Book Stats:
Rating 2.5/5
Series: Sex & Bonds
Tropes: Brother's best friend, Baker- Foodie, Close Proximity, Virgin heroine, mental health rep, opposites, Plan B Used,
CW- loss of a sibling, grief,
Read Heather's review here