Trouble with #9 by Piper Rayne
After reading book #1 in this series I could not wait for this book….I was SO excited. For a couple reasons, 1. I knew Maksim was going to be the most loveable grumpy character around. 2. #9 is my lucky number and it was fate that Makism and I would love each other. I was right….mostly.
Makism is closed off. And man on the ice. He gets A LOT of penalties….but he is the enforcer so that makes a little sense. But this guy might take it to the extreme. He meets a girl on New Year's Eve, and shares an amazing kiss only to find out that this marvelous woman is the team's therapist. That is correct: the entire team is being forced to meet with a therapist. Except, Maksim doesn't talk about feelings….eww. Feelings. Not for this guy. A reader would totally expect this man to be the grumpiest of grumps, but he has the softest center. This man cares so darn much and surprises us at every turn. Let's just say this man can date. He is spectacular at it. Like a Stanley Cup winner!
Paisley. Oh sweet, Dr. Paisley Pearce. She is a driven girl, and is successful. All on her own. She is working to establish her own practice and is asked to provide some sessions to the Florida Fury hockey team. Paisley is a smart girl, but has been hurt in the past and this makes her nervous, so she is guarded and protects herself. But Paisley also values herself and sets boundaries. And, technically Maksim is a patient and there are rules. But you know what they say, rules are meant to be broken, right?
These two have some fire and chemistry. And the hilarious banter. Paisley does not allow Maksim to get away with much, likes to call him on it, but also see's the gooey center in him. And the patience this lady has with this man. One is running fast from commitment and one can't catch it fast enough…..I thoroughly enjoyed watching this pair fall for each other. And the speed bumps Piper Rayne tossed this Paisley and Maksim's way was thoroughly entertaining!
If you love a good sports romance, a secret relationship, funny banter, meddling families, and a grumpish hero then this is the book for you!  Be prepared you will be waiting on pins and needles for Ford's story…you've been warned!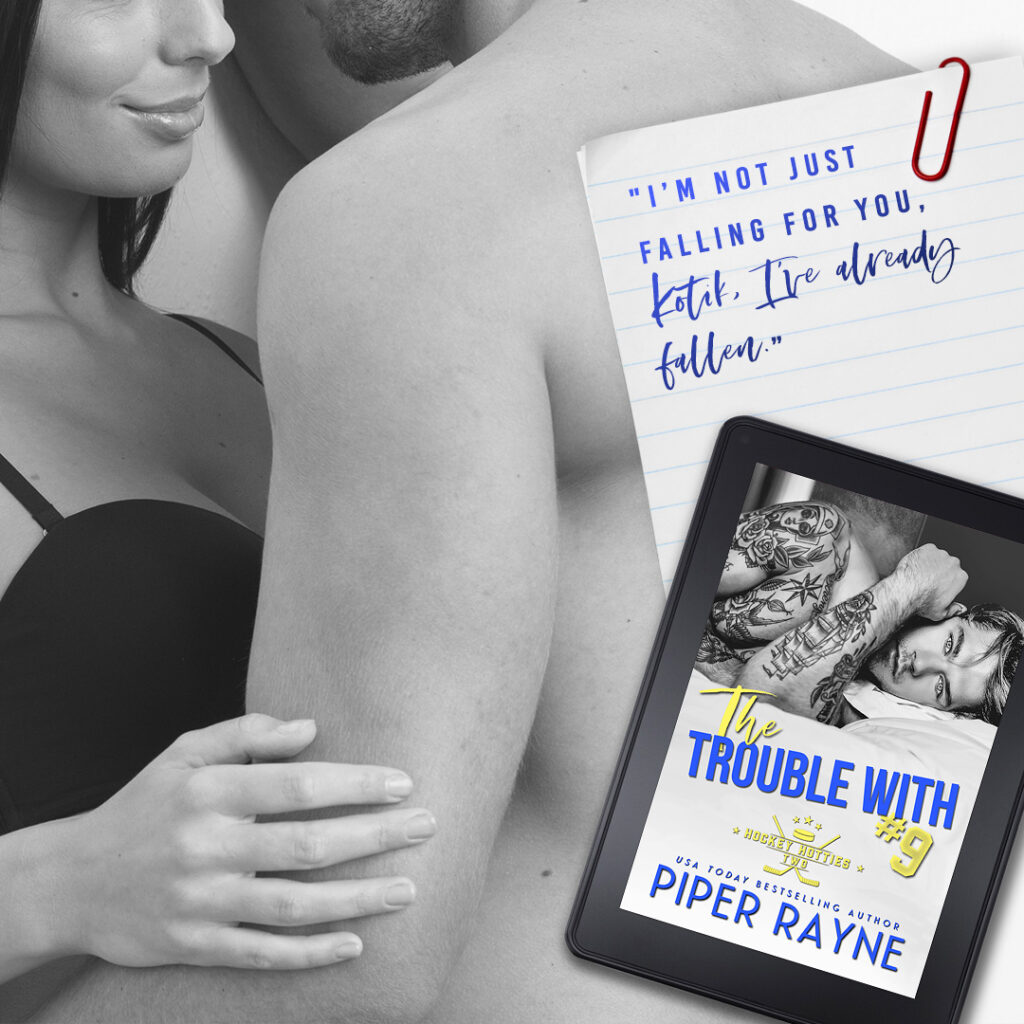 "I'm Russian, Coach, we don't do that whole 'up in our feelings' shit" – Maksim