The Promises We Make by LM Dangelish

THE PROMISES WE MAKE

Crossfire Rock Stars #1
by L.M. Dalgleish
Cover & Excerpt Reveal

Release Date: December 8, 2022

Cover Design: Wildheart Graphics
Genre: Contemporary romance
Trope: Rockstar romance, forced proximity, friends to lovers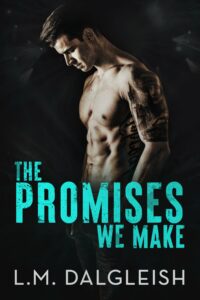 ---

Synopsis


All it took to change everything was a bottle of tequila and a game of truth or dare…
I'm living the dream.
Seven years after moving to LA with my cousin Beau, the two of us are reaping the rewards of being the lead guitarist and bassist for one of the fastest rising rock bands in the country.
The only thing missing is the girl we left behind. Our best friend, Shae.
So when I find out that things aren't going so well for her back home, inviting her to stay with me and Beau for a few months is a no-brainer.
Except, I don't factor in what living with her will be like. Talking, laughing, seeing her wandering around in a bikini… Before I know it, feelings I've spent years suppressing are back.
All it takes is one drunken night, and I cross a line I promised I never would.
Because Shae's off-limits, for more than one reason. If she and Beau find out the secret I've been keeping, the friendship that binds the three of us together might just go down in flames.
And take my heart with it.
---
---

Excerpt

Devon chuckles low, the sound rasping across my senses.
This is mortifying. Best friend or not, I'm more than aware that Devon's a man, and I'm a woman. Talking about orgasms and masturbation with him isn't exactly comfortable for me. "Truth or dare?" I ask through gritted teeth.
The smile that tilts his lips is slow and lazy, and for some reason, a lick of heat spreads through me. "Truth."
"When was the last time you had an orgasm?"
He doesn't miss a beat. "In the shower before we went out tonight." I should have known I couldn't embarrass him. "Do you want me to tell you what I was thinking about?"
"What? No!" I squirm again. "Why would I want to know what sordid little fantasy you were having? Probably remembering your last threesome." I cringe as soon as the words pass my lips. Way to highlight my lack of cool when it comes to him having had a threesome. Or a thousand threesomes for all I know. It shouldn't bother me so much. Devon's free to do whatever he wants with whomever he wants.
But his mouth curves up at my discomfort. "It definitely wasn't a threesome."
My skin prickles and I swallow, focusing my attention on the comforter beneath me. There's a strange tension vibrating between us. Just like when I was sitting on his lap and he put his hands on me.
"And since you're so interested," he drawls.
I dart a glance at him, ready to protest.
But the words die on my lips when he says, "I haven't had a threesome in a long time. Turns out, I prefer devoting all my attention to one woman."
I search his face for signs that he's making fun of me. "Really?"
He pulls one long, denim-clad leg up to his chest and rests his tattooed forearm on it. "With more than two people participating, it turns into a competition or a show. I'd rather focus on making one woman fall apart under me."
My mouth dries, forcing me to wet my lips to get some much-needed moisture. The image that Devon's words paints in my mind has my skin feeling hot and achy and tight. I have a sudden vision of his naked, tattooed body moving rhythmically over a woman as she moans and calls out his name. God, I should not be thinking about my best friend that way. And I should definitely not be turned on when he tells me how he likes to have sex.
We need a topic change before my libido flares up even more. There's no way I can take care of myself in this room now that Devon knows what I did.
But it's his turn to ask me, and I opt for truth again, since I have no idea what dare either of us can do in this apartment at this time of night. I'm hoping he's finally run out of questions that revolve around sex.
Turns out I'm not in luck. "I know you haven't had sex for a while," he says. "Although you've had an orgasm very recently." He smirks at my grimace. "When was the last time someone went down on you?"
I cringe. "Devon, you can't ask me that!"
"Yes, I can. You keep choosing truth. Considering how much I already know about you, what else am I supposed to ask?"
I wrinkle my nose, but under his probing stare, I blurt out, "I don't remember, okay?"
His brows shoot up. "You don't remember?"
I clear my throat. Because I do remember. I remember too well. "A while. I don't know. I guess I… I don't really enjoy it."
"You don't enjoy it," he repeats what I said slowly, forehead creased, as if he can't comprehend my words.
"It's too… I don't know. Too intimate, I suppose. And I've never felt comfortable enough with anyone to relax enough to enjoy it. So I just don't ask. And honestly, I don't feel like I'm missing out on anything."
Devon's staring at me, a muscle pulsing in his jaw. "Exactly what kind of men have you been with?" he grits out.
I hate the way he's looking at me. I'm sure it must be with pity. And honestly, apart from a couple of casual high school boyfriends, most of my sexual experience was with Phillip. And he made me feel anything but sexy and desirable. "Maybe we should stop playing now."
"Just a few more. We've almost finished the bottle." Devon's tone is deep and measured, with an edge to it I don't quite understand.
I let out a breath and nod, then ask him the question.
His answer comes quickly. "Dare."
I'm not expecting it and have to scramble to think of something. I eye the almost finished tequila bottle. The worm floating at the bottom makes me smile. "I dare you to swallow the worm." For some reason, Devon's always been squeamish about doing that.
But he doesn't look freaked out the way I expect. Instead, he fills my shot glass, nodding at me to drink, then puts the rim of the bottle to his lips and tips it up, swallowing the remaining tequila and the worm without a flinch.
I drag my gaze away from the strong column of his throat, and even though it's not my turn, I drink my last shot too, another shiver racking through me.
Devon mutters a curse, but when I raise my brows at him, he ignores my silent question. After taking my glass from me, he puts it, along with his and the now-empty bottle, on the floor.
"Truth or dare, Shae?" he asks, and there's a rasp in his voice that sends my pulse fluttering.
Disconcerted, I shift on the bed. Then, following his lead, as he probably knows I will, I answer, "dare," hoping he'll pick something easy, like I apparently did.
He holds my gaze, and my pulse speeds up even more. "I dare you to let me kiss you."
---

Giveaway
One of Five eARC's The Promises We Make


a Rafflecopter Giveaway


ENTER HERE
---

About the Author

L. M. Dalgleish is a life-long book lover who, as a child, used to shut herself in her bedroom with a good book and a packed lunch so she could spend all day reading. Her passion for romance novels began in the long sleepless nights following the birth of her first baby. Two more babies later and she's still in love with strong, sassy heroines and sexy, but emotionally unavailable (at least to begin with) heroes.
She lives in Canberra, Australia, with her husband, three kids, and a very large, very fluffy cat. In her spare time, she enjoys hanging with her family, reading, eating too much pasta, and watching horror movies.
---
---