Strictly Pleasure by Carrie Elks
Strictly Pleasure by Carrie Elks is book 2 in the The Salinger Brothers Series. This is such a great family series with fantastic characters.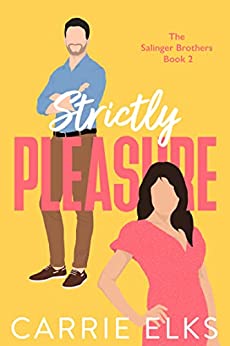 I was a bit apprehensive about this book at first, as sometimes rom-coms don't always hit for me. But to my surprise, it didn't have that vibe throughout most of the story. 
 
Liam, the charming and infatuated playboy, is easy to adore as he navigates unfamiliar territory and tries to find his way forward. The unexpected twists and turns that crop up along the way, (don't worry, no surprise pregnancies!), really added to the story's appeal. It was a delightful balance of cliched, romantic tropes and unpredictable plot elements, making it perfect for a binge-read. The story never got too serious, keeping things light and flirty the entire time, which was exactly what I was craving. 
 
Additionally, the family moments sprinkled throughout (but not overdone) were a great way to tie in the rest of the series and get me excited for the upcoming books featuring Liam's siblings. 
 
Overall, this was the perfect romantic comedy that I was hoping for, and I'm thrilled with the outcome of this book. 
Book Stats:
Rating: 4/5
Series: The Salinger Brothers
Tropes: Family Series, Rom-Com, one night stand, frenemies to lovers, Slow Burn
Do you enjoy Bingeable Family Series- Check out my Pour Over Post all about some of my favorites.