Review: Hard Luck by Sara Ney
Rating: 3
Steam: 1/5
Angst: 0
Trope: one-night stand, Surprise Pregnancy, Team mates little sister, baseball, rom-com, sports romance
Series: Trophy Boyfriends #4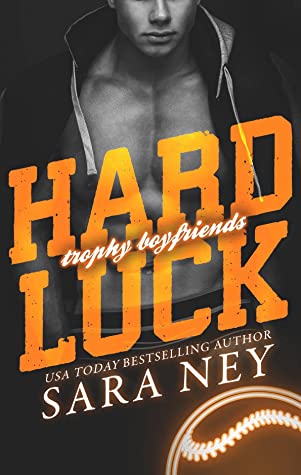 Hard Luck is the fourth installment in the hilarious, super steamy Trophy Boyfriends series and focuses on True Wallace and Matteo Espinoza. For those new to the series or needing a refresher, True is the younger sister of Buzz (hero from book 2) and Tripp (hero of book 3) and Matteo is one of Buzz's team members (they play professional baseball together).

At the end of book 3, Hard Love, the POV switches to True and reveals a huge surprise: she's pregnant. Hard Luck picks up from there.
This is a story that isn't actually "action" packed of the story. It is a heavy dose of personalities and relationships. The characters more than the romance are what this book is about. There is a lot of characters in this story to keep track of. In addition to glimpses of previous characters from book 2 and 3, we also get to meet a whole slew of new characters in the form of Matteo's family. His six sisters are WILD and basically female versions of Buzz and Tripp so you know every family gathering is going to be a hoot!

I struggled a lot with this story. It was heavy on the fun and light moments but very light on the romance. I also felt like it ended abruptly. I don't feel like Matteo's reaction was genuine. I think the fact that True "ghosted" him and hid from him for so long that his reaction was to stoic. I needed and wanted a more emotional response from him.
Sara Ney is a fantastic writer. Her writing is witty, entertaining, and refreshing. I just felt like the plotline needed something. The book is well edited which helps, had it not been as well edited I would have likely 2 stared or not finish it. I would have a hard time recommending this book it was just lacking the romance so much. It was noticeable. Sometimes you get a high angst steam with lots of flirting you don't miss the romance.. this time you MISS the romance.
Looking to purchase a copy here is your link: