Promise Me Always by AL Jackson
Talk about a dynamic book. Promise Me Always by AL Jackson was romance perfection. The Redemption Hills Series as a whole is a dynamic series.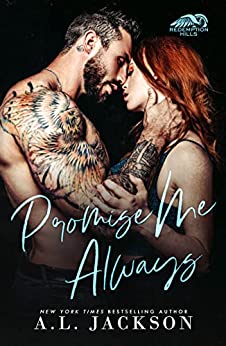 I have wanted Tessa's story since book 1. She is one of those characters you really hope will her HEA. She has so much heart and passion for the people in her life. Tessa has been searching for her person. That one person you can lean on and that you is there to hold you during the dark moments and help you find joy.
Milo is the hero you did not know you heart needed. Your heart will break for him but the love and compassion he shows for the other people in his life is such a great snapshot into the human condition. The demons in his past he lived with every day. Past decisions how at the time he was doing what he felt he had to cost him so much.
Tessa and Milo's relationship starts on a whim as a fake engagement but it isn't long before they are fighting the connection and chemistry between them. Tessa needs to protect her heart and Milo doesn't think he deserves a second chance at love.
As with any AL Jackson book she is going to deliver some surprises along the way but also, she breaks out heart a little bit. She tears in to the hidden depths of our souls allowing us to see light when to the outside world it is darkness.
I was honored to be given an ALC of this audiobook and it was expectational. Narrators Connor Crais and Samantha Brentmoore bring these characters to life. Their performance of this story created and emotional listen. The flow of this audiobook was seamless with both narrators delivering a fantastic listening experience. I will look for more of this pairing for sure.  
Book Stats:
Audiobook is a 5 star for narrations
Audiobook narrators – Connor Crais and Samantha Brentmoore
Book is a 5 star
Tropes: close proximity, age -gap, bearded hero, second chance at love, small town. fake engagement, redemption romance, friend group, pining for her, single dad,
Series: Redemption Hills
Type: Interconnected Standalone
Other Reviews in this Series by me:
Book 2- Say it's Forever
Book 3- Never Look Back