Meet Indie Author: Karen Cimms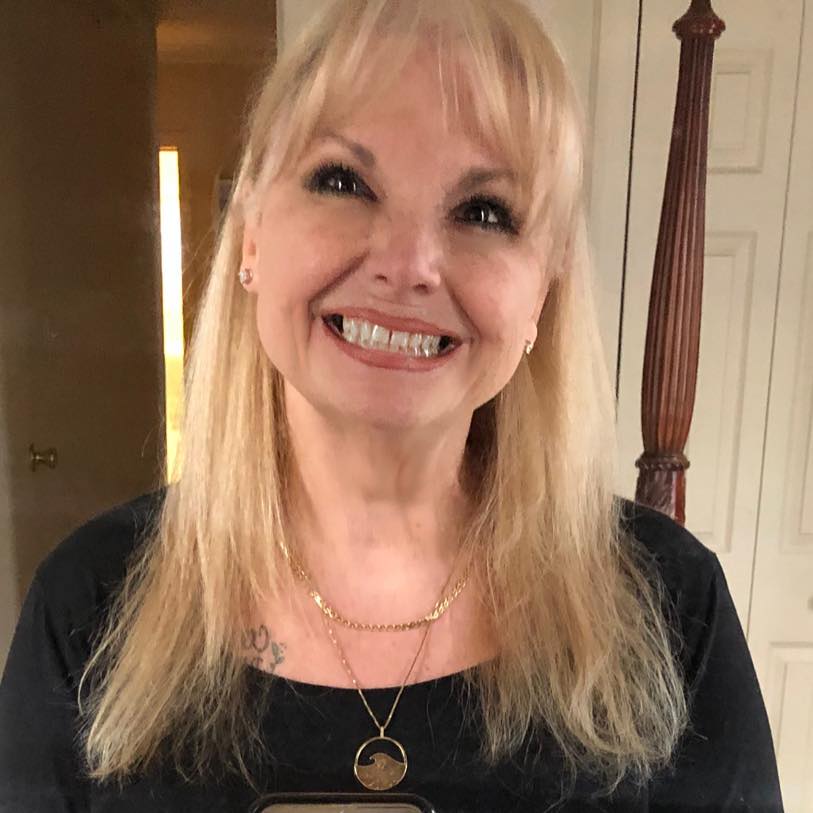 Karen Cimms is a writer, editor, and music lover. She was born and raised in New Jersey and still thinks of the Garden State as home. She began her career at an early age rewriting the endings to her favorite books. It was a mostly unsuccessful endeavor, but she likes to think she invented fanfiction.
Karen is a lifelong Jersey corn enthusiast, and is obsessed with (in no particular order) books, shoes, dishes, and Brad Pitt. In her spare time she likes to quilt, decorate, and entertain. Just kidding–she has no spare time.
Although she loves pigeons, she is terrified of pet birds, scary movies, and Mr. Peanut.
Karen is married to her favorite lead guitar player. Her children enjoy tormenting her with countless mean-spirited pranks because they love her. She currently lives in Northeast Pennsylvania, although her heart is usually in Maine.
AT THIS MOMENT is book one in her of Love and Madness Series
Sometimes life gives you what you need, even if you don't believe you deserve it.
Kate Daniels wants it all—a big, crazy life, lots of kids, and an adoring husband. Someday. For now, she'll be happy just to survive her first semester of college. Billy McDonald wants it all, too. Since the day he got his first guitar, he's had one goal—to prove he's worth something. His dream is so close, he can almost touch it.
Thrown together during a freak snowstorm, Kate and Billy's lives become permanently entwined. On the outside, they have nothing in common, but scars aren't always visible and abuse doesn't always leave a mark. Kate keeps the pain of her past buried, while Billy carries his like a weapon.
In spite of finding love, Billy continues to be haunted by his childhood and tempted by the excesses of the music industry. He struggles to keep his career on track and his inner demons at bay, until one night, he makes a mistake that could cost him everything. Kate may have found her happily ever after, but for Billy, the nightmare has just begun.
Set against a backdrop of heavy metal and emerging grunge, At This Moment is the first book in the Of Love and Madness trilogy. A love story that unfolds over twenty-five years, it's the tale of two damaged people trying to make their way in the world without destroying themselves or each other in the process.
Here are a few quotes from reviewers:
⭐⭐⭐⭐⭐ "So intense I couldn't put it down!"
⭐⭐⭐⭐⭐⭐⭐⭐⭐⭐"I LOVED Billy and Kate's story. So real. So raw. At times heart wrenching and at times so beautiful. I rooted for them. And I loved them. And I can't wait to read more from Karen Cimms."
⭐⭐⭐⭐⭐⭐⭐⭐⭐⭐"This book got me right in the feels and I have a feeling this trilogy is gonna be on the top of my favorite angsty trilogies ever."
⭐⭐⭐⭐⭐⭐⭐⭐⭐⭐"I laughed, I cried, I yelled, and I held my breath about a dozen different times."
AT THIS MOMENT is currently on sale for only 99 cents at http://amzn.to/2g60beX.
All books in the series are available free in Kindle Unlimited.
You can check Karen and her world at karencimms.com.
She is also active on social media.
Amazon: http://amzn.to/2is7w9f
Goodreads: http://bit.ly/2mYzgTs
Mailing list: http://eepurl.com/cvMTPT
Facebook (author page): https://www.facebook.com/KarenCimms/
Facebook (reader/fan group): https://www.facebook.com/groups/KarenCimmsVIPRoom/
Website: https://karencimms.com/
Instagram: https://www.instagram.com/karen_cimms/
Bookbub: https://www.bookbub.com/profile/karen-cimms
Pinterest: https://www.pinterest.com/kcimms/
Twitter: @Kcimms
Tumblr: https://karencimms.tumblr.com/
Spotify: https://open.spotify.com/user/12121379046