Meet Indie Author Harlow James

I write contemporary romance under a pen name to protect my identity since I'm a teacher by day. Stumbling upon romance novels in May of 2018, I fell in love with happily ever afters and tales of love, loss, and overcoming doubt. I decided to try to write my own novel and self-published it in May of 2019 on Amazon. Since then I have written 8 books, the seventh coming out on May 7th, the anniversary of my first book being published. This hobby of mine has quickly become a passion I love. I love finding my readers, the women who want the escape from life in a tale of romance, heartbreak, and even some cheesy details that you would find in a romantic comedy movie that secretly make you swoon.

Being an indie author is tough because it takes a lot of time to find your audience. But the community I've become a part of is INCREDIBLE! These women support and encourage one another, and I've never experienced that before! It's empowering and makes me proud to be a romance author.
My next release, Captivated, which is a standalone in The Emerson Falls series (now out on KU), dabbles a bit in mystery and romantic suspense. It follows the tale of a playboy sheriff deputy that becomes entranced by the new nurse in town. But she isn't who she says she is, and that leads to an intense uncovering of her past, and a fight for their future.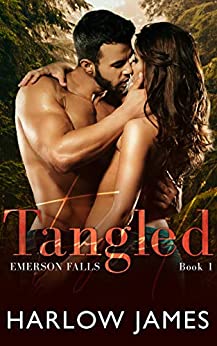 Pre-Order here: https://www.amazon.com/dp/B08682NQJ8
Amazon page: https://www.amazon.com/Harlow-James/e/B07RM5BKLB?ref_=dbs_p_ebk_r00_abau_000000
Goodreads: https://www.goodreads.com/author/show/19149444.Harlow_James
Instagram: https://www.instagram.com/harlowjamesauthor/
Facebook: https://www.facebook.com/HarlowJamesAuthor/
Newsletter: https://mailchi.mp/e5ff1c34d522/harlowjamesauthor