Love Me Today by AL Jackson
I read Love Me Today over a week ago, and I am still reeling in the feels of it. AL Jackson is an author that again and again pulls me into a story and refused to let go until the very last page.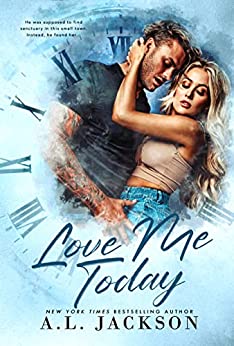 POV: Dual 1st Person
Put out percentage: 75%
Tropes: Slow Burn; Single Dad; Stern Brunch Daddy; Billionaire; Meet Cute; Close Proximity; Protector Romance; Rancher; Alpha-hole; Small Town; Returning to Home; Series Starter; Romantic Suspense
Series: Time River book 1
Type of Series: Series of Standalones
Rate: 5/5 Stars
Release Date: May 29, 2022
Audio narrators if you did the audio book: Joe Arden and Andi Arndt
Is there a 3rd act break up: Yes
Love Me Today by AL Jackson starts with Paisley Dae coming home to Time River. She isn't running per se, but she has her tail between her legs for good reason. This is a woman who is strong and confident, but life has knocked her down a little bit. The life that she thought she would be leading is not happening. So she returns to the one place that always had her back. Her grandfathers house.
Caleb Greyson is hiding out. He comes to this small town because he has family here, but the life that he has led is VERY different than the life they have. He is in charge of a billion dollar empire, but it isn't exactly what it seems. Then we have little Evelyn. This adorable girl is dealing with the circumstances of her life, and is folding into herself.
This is where Paisley Dae comes in. Evelyn and Paisley are two people that were destined to meet. I think with many of Jackson's books fate and destiny play a huge part in the way in which the story turns out. Caleb needed to come to this town. Evelyn needed to want a horse. Paisley needed to be the one that shows them both that life is worth living.
Love Me Today was so much more than I was expecting. And I am still thinking about it and the impact these characters made on each other. The twist… while I saw the who. I did NOT see the why!
Run don't walk to your kindles and download this book. It is worth the time and the tears that you will give.
Possession wound me tight, chest stretching in a bid of too many things as I gazed down at her chaos on the center of the bed. Propped on her elbows, her tits pebbled and peaked, all that hair raining down around her like a dream.
The audio book is done by Joe Arden and Andi Arndt… while it isn't my favorite and I jumped back and forth between the two. They bring these characters to live exceptionally well. The lyrical style in which Jackson writes her books lends to that in a way that you never expect.
And Jackson introduces so many dynamic side characters, I truly can not wait to spend more time in Time River.
Watch a Happy Hour HERE with AL Jackson as we chat about her writing.