How to Make a DNF Shelf on Goodreads Exclusive
On our June 19th episode of Buzzing about Romance we talk all about DNFing (Did Not Finish) a book. We talked about the concept of reviewing a book you DNF'd.
I have started to review books I DNF'd. I think that there is a value to sharing with others why a book missed the mark. I will especially highlight if there are story inconsistencies or bad editing. I am always critical in my reviews but I am never personal. I also think as we move more in the conversation about Trigger Warnings and who is responsible it makes sense to share if you DNF's a book because of a trigger. While it might be a something personal to you there could be others with similar triggers.
We often talk about the "book community". I think being a good member of the community means sometimes you have to point out when things don't work or if a book had content that is problematic. We want to hold authors and publishers to higher standers but we also have to help push for those higher standards. In my opinion one of the ways to do this to make sure you are letting fellow readers know which a book doesn't work.
* Please Note Reviews should NEVER BE personal against the author. It should focus on the content of the story or your personal experience. *
What do I want in a DNF Review?
At the very minimum give a star score and a brief reason why. If you have time and there might be some bigger issues in play let other readers know why you could not finish the book or the reason you walked away from the story.
In the episodes I shared that you can create an "exclusive" shelf on Goodreads for DNF's so that it doesn't sit in your Want to read/currently reading/Read cycle of Goodreads. It is also an easy way to signify for your own record keeping a book you did not enjoy. It might help you make choices in the future with the author or subject material.
The following are the Steps you can take to create and exclusive DNF Shelf for your Goodreads Account.
You will need to do this from a web browser and not the mobile app.

When you first log in to your Goodreads account you will want to click into the My Books section.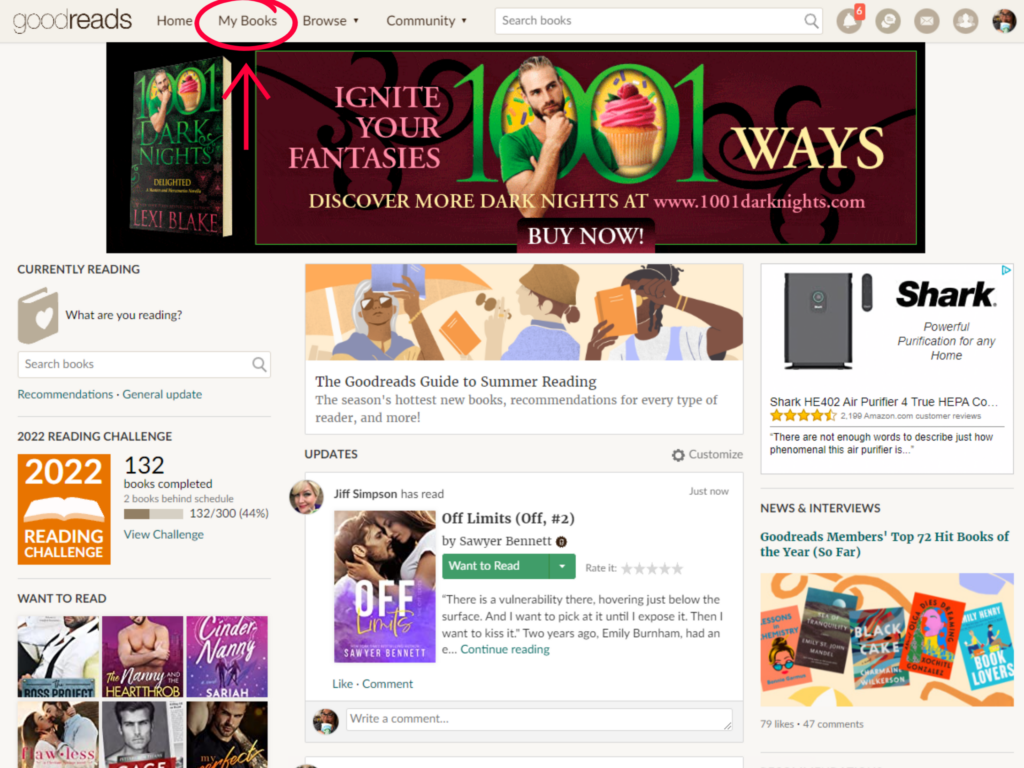 Once you are in the My Books Section on the left hand side You will see Bookshelves with edit in parentheses. Bookshelves (Edit). Click on Edit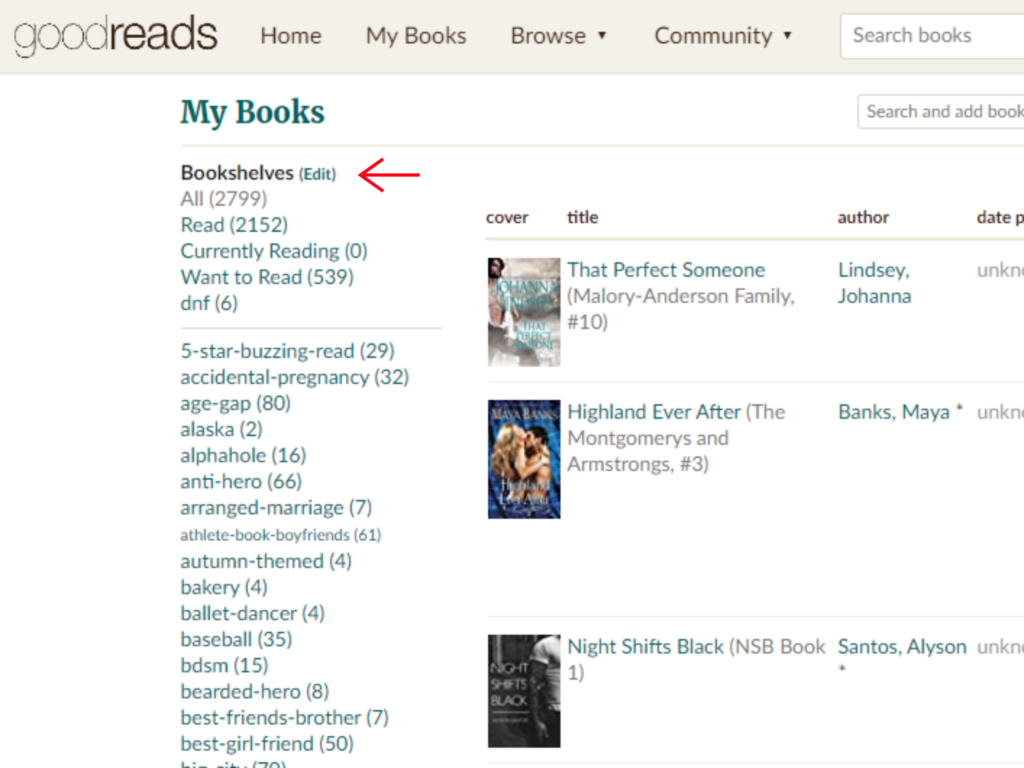 Once you Click on edit the next screen will show you all your shelves down the left hand side across the top you will have the option to add a Shelf. (You will need to do this step if you do not already have a DNF Shelf). in Columns across the top you will see Shelf, Feature, Sortable, Sticky, Exclusive, Recs.
What does each Column Mean?
feature: You may choose one shelf to feature on the top of your profile. If the shelf is sortable, then the top books are shown on the profile. If it's not sortable then we choose random books from the list. If you choose the read shelf (default setting), we randomly display 5 star rated books. You may also choose to have no shelf displayed, by unchecking the currently featured shelf.
shelf sorting: You can enable shelf sorting to customize the order of your shelves. This is extremely useful for the "to-read" shelf; You can keep track of what you'd like to read next!
sticky: Sticky shelves are sorted first on your books and on your profile.
exclusive shelves: All members have three default shelves (read, currently-reading, and to-read), which are mutually exclusive, meaning a book can only be on one of them. Members can create as many additional shelves as they like, and books can be on as many non-exclusive shelves as you desire. This may be useful for shelves such as "reference" or "gave-up-on." It may take a few minutes for the changes to propagate if you have a lot of books on this shelf.
recs: Check this box if you would like us to try to make recommendations for books in this shelf. If this box is unchecked, we will not make recommendations for this shelf.
Once you have a DNF Shelf you will want to Click the "Exclusive" Column for it. This will make it so that book will not show up in your Want to Read, Current Read, or Read Shelves.
Once you have selected the Exclusive Column you will want to scroll to the bottom and hit "I am Done." This will save the chances you have made.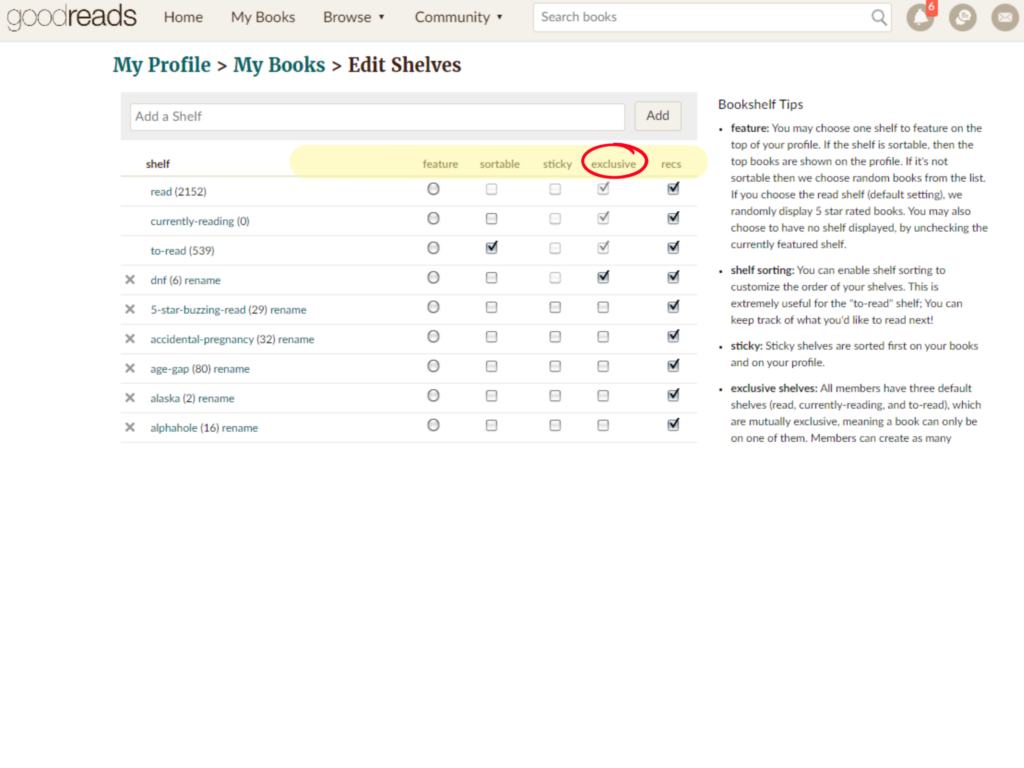 Let us know if you need help or anything! You can email us and we will walk you through it!

Becky