Hot Mess Summer by Melissa Foster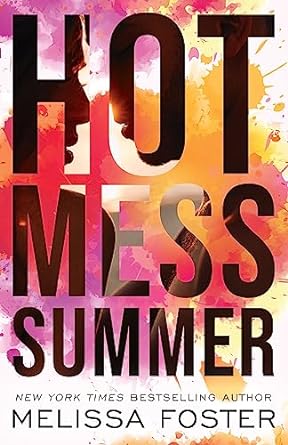 "One Hot Summer" by Melissa Foster is a captivating journey that invites readers to rediscover themselves, reclaim lost strength, and embrace love, including the often-overlooked concept of self-love. Melissa Foster's storytelling prowess shines through, making it impossible not to be drawn into the narrative. In fact, you'll find yourself yearning to be a part of it. I'll admit, if I had the chance, I'd pack my bags and move to Chatemup without a second thought!
The small town setting adds depth to the story, with its warm and supportive community. The people Nicole encounters become her found family, and it's as though she was always destined to be there, finding happiness and belonging in this charming place.
While the story isn't laden with angst, it is filled with valuable lessons about self-discovery and understanding others.
In the end, "One Hot Summer" proves that even amidst the chaos of a scorching summer filled with complex individuals, it only takes one season to transform everything. It shows that you are worth it, and you always have been. It is a slower burn but is on par with Melissa Foster's writing style. It is a great entry point to check out the author since this is a new series. It does read on the lighter side and leaning heavy on Nicole Journey. If you are looking for a lower stake in spice romance this is a title to check out.
Book Stats:
Rating: 3.5/5
Tropes: Small Town, Instant Connection, Second Chance at Love, 35+ characters,
Pop: 43%
Standalone
Reviews for other books by Melissa Foster