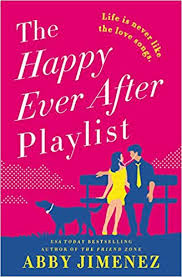 The Happy Ever After Playlist by Abby Jimenez takes place around two years after the events in The Friend Zone. Sloan is not herself, trying to figure out how to move on after her fiancé Brandon was killed in a tragic motorcycle accident. The universe continues to send her one challenge after another. A super awkward meet cute with her new pup Tucker is just the start for Sloan. Sloan is trying desperately to start this next chapter in her life.
Jason is a touring musician and he's livid to learn that his dog has been out roaming the streets of L.A. and not safely taken care of by the woman he left her with. He finally gets in contact with Sloan and the two enter a back and forth over whether Sloan will allow him to have his dog back. Slowly Jason starts to penetrate her walls and Sloan reluctantly agrees that when he comes back, they can co-chaperone Tucker on an outing and she'll decide whether he's worthy.
Jason returns to LA and instantly feels a connection to Sloan. Sloan isn't sure she can trust herself or if she should be feeling this strong attraction to Brandon's absence. Slowly Jason makes progress pushing his way into her head and her heart. Slowly, Sloan starts to wake from her morning and allow herself to enjoy time with Jason. Then Sloan discovers a secret about Jason and learns this blossoming new relationship may have an expiration date before it ever really gets started.
Jason and Sloan are amazing. Fantastic Chemistry and just great love. I loved this their story. I loved it even more than TFZ. Amazing banter between Jason and Sloan. Jason was so sweet and understanding and used his wit and charm to continue flustering her and sneak under her defenses. The story is so amazing, it fills your heart with all the feels. The story is big in understanding that life doesn't happen on your schedule. That love is on its own time schedule. It also reminds us that sometimes you have to accept where you are before you can accept love at face value.
This book covers the trifecta of Rom Com, a hilarious Meet Cute, awesome banter, and a best friend who loves you but is also super quirky and the bonus of a dog!
Happily, Ever After Playlist is the must read of the spring. You will want to have this on your TBR List for sure! Do yourself a favor and preorder this today! Abby Jimenez is a rom-com goddess!