In Fury, Anna Hackett mixes it up moving into first person point of view, but it does not take away from her strong story telling. Opening a book by Hackett, I know that I am going to get an engaging and entertaining story with strong heroines and heroes that are all in, even if they need a little coaxing at first.
If you have read Anna Hackett before, then you got a brief introduction to the Fury brothers in her Sentinel Security series. But they are so much more than you expected. This found family is intense, loyal, and loving. The brothers forged their lives from nothing, and I can't wait to see what Hackett has in store for the five men.
Mila is a woman on the run.
She is working in the nightclub run by Dante Fury attempting to essentially hide in plain site. There has been an attraction and awareness of Dante that she is trying to ignore. These two have created a bond that neither one of them are acknowledging it while trying to continue to live their lives. Dante has waned Mila since the moment he set eyes on her, but will not allow himself to do anything because she works for him.
Until Dante sees she needs help.
Then all bets are off, and he derives a fake relationship that isn't fake at all. At least to him. Hackett has a way to spin a tale that seems outlandish but not at the same time. She creates worlds that draw you in and won't allow you to put down the book. The relationships forged between the key characters in her stories are intense and show that family is what you make of it. That just because you aren't blood doesn't mean that those people can't be everything to you. In Fury, she once again gives us a story in which the heroine is in trouble, but is strong even when struggling. That is one of the things that I love most about Hackett's stories. She shows each and every time that even though a woman may have insecurities or issue plaguing her… strength is not a bad thing. Independence is good, but it is also good to ask for help when needed.
Don't miss out on this story.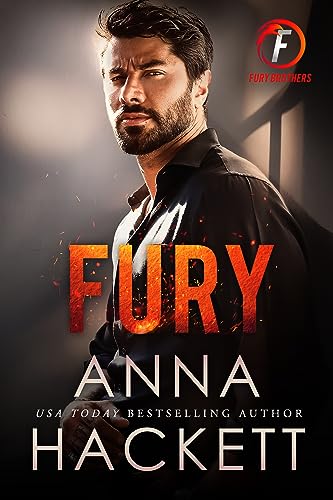 POV: Dual 1st Person
PoP: 77%
Tropes: Slow Burn; Heroine on the Run; Fake Relationship; Boss/Employee; Found Family; Dirty Talker; Protector Romance
Series: Fury Brother book one
Type of Series: Series of Standalones
Release Date: September 7, 2023
Is there a 3rd act break up: No
Check out these other Anna Hackett items:
Meet the Dante Fury for the first time in: HEX
Listen to me lost my absolute cool in this interview: Author Spotlight-Anna Hackett