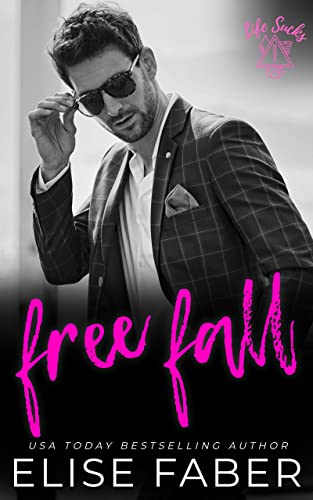 POV: 3rd Person Multi
Put out percentage: 58%
Tropes: Forced Proximity; Enemies to Lovers; Small Town; Co-Workers; Found Family; Slow Burn
Series: Life Sucks book 7
Type of Series: Series of Standalones
Rate: 3.5/5 Stars
Release Date: March 28, 2023
Free Fall is book seven in the Life Sucks Series.
Free Fall is the story of Raven and Connor . These two work in the same hospital. Connor is a nurse and Raven is a doctor. However, they do not work the best with each other. They are also have the same friend group which causes friction. These two are attracted to each other but fight it. Raven is running from a not so great past and has worked super hard to create a better life for herself.
Connor has a great family life who pulls people into the fold without question. Raven's home burns down and she gets hurt, so their friends move her into Connor's house to recover. They butt heads over and over again until Raven makes a choice and leaves. She runs away because of the feelings she is having about everything. Connor kind of loses his mind when she leaves and realizes that he has deeper feelings than even he knew.
I really enjoy this series and the healing journey Elise Faber creates for the characters in this series. She throws a lot of emotional turmoil at these characters but it isn't so much that it doesn't seem believable. This is a series that you can read out of order and not feel lost.
Check out These Reviews
Perfect Storm (Life Sucks book 6)