Ep. 88 Dirty Talking and Swoony Heroes with author Tessa Bailey.
One this episode of Buzzing about Romance Becky and Leah chat with the author Tessa Bailey. They talk about her journey of as an author, her Tiktok fans and her upcoming release Hook, Line and Sinker.
Meet Tessa: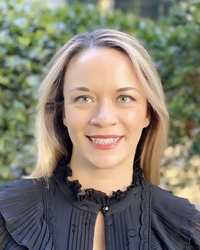 New York Times Bestselling author Tessa Bailey can solve all problems except for her own, so she focuses those efforts on stubborn, fictional blue collar men and loyal, lovable heroines. She lives on Long Island avoiding the sun and social interactions, then wonders why no one has called. Dubbed the "Michelangelo of dirty talk," by Entertainment Weekly, Tessa writes with spice, spirit, swoon and a guaranteed happily ever after. Catch her on TikTok at @authortessabailey or check out tessabailey.com for a complete list of books.
Follow Tessa:
https://www.instagram.com/tessabaileyisanauthor/
https://twitter.com/mstessabailey
https://www.facebook.com/TessaBaileyAuthor/
https://www.tiktok.com/@authortessabailey
Patreon Update: Welcome to New Patreon Member JennEllen! We love watching our community grow. We might have the best community in all romancelandia. If you would like to join us check out our Patreon Campaign at Patreon.com/bookcaseandcoffee
Another Round: We are so excited that with the anticipation of the return of the Netflix Bridgerton we are back for Another Round. Another Round is an exclusive Youtube Cast for our Patreon Members. Host of the Corset and Crown Podcast, Katie and Sadie will be joining us to talk all things Bridgerton. First up on March 20th we will be doing a book discussion on Season 2's Inspiration The Viscount Who Loved Me by Julia Quinn. You can find details by visiting our website or check out Patreon.com/Bookcaseandcoffee
New Year New Challenge: We are breaking up our Reading Challenges for 2022. Instead of a yearlong challenge we will host 3 big challenges this year. New to You Author, Summer Reading and Clear the TBR. We will likely sprinkle in some smaller challenges throughout the year especially if left unsupervised.
Next Up : On the Next episode of Buzzing about Romance we are chatting with Debut Author Mazy Eddings. Mazy is an own voice author who is releasing her Debut Novel A Brush with Love on 3/1. We are also hosting a paperback giveaway for a signed paperback on our website and IG.

Patreon: https://Patreon.com/bookcaseandcoffee
Facebook: https://Facebook.com/buzzingaboutromance
Instagram: @buzzingaboutormance
Music by Cambo
Itunes | Spotify | Stitcher | Google | RSS Feed