Empire of Lust by JL Beck
Empire Of Lust lives up to its name, containing all the dark, dirty, and forbidden elements one could desire in a downright delicious and filthy book. While it does conclude with a cliffhanger, Bianca and Callum's storytelling is so gripping and addictive that readers won't be able to resist waiting for the next installment. The wait is well worth it.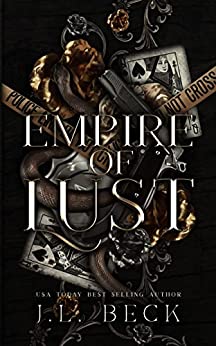 This book is an incredibly hot and steamy read that will leave you gasping for breath, especially after meeting the irresistible daddy Callum. The story is a dark mafia romance with an age gap, forbidden touch element that will have you turning the pages faster than you can imagine. However, it does end on a cliffhanger, leaving you desperate for more.
Callum is a mobster billionaire who has always kept his daughter away from his dangerous world, but when Bianca, his daughter's best friend, comes into his life, he can't resist her. Bianca has always harbored a secret crush on Callum, and after moving in with her best friend, things heat up between them. Despite being a good girl, Bianca falls for Callum's possessive nature and the way he takes charge in the bedroom.
The characters in this book are captivating, and Daddy Callum is particularly memorable. His possessiveness over Bianca only adds to the sizzling chemistry between them. The forbidden aspect of their relationship adds another layer of excitement to the already thrilling plot, which is full of dark mafia twists and turns.
Overall, I thoroughly enjoyed this book and would highly recommend it to anyone who loves a good dark mafia romance. The wait for the second book in the series is already killing me!
Book Stats:
Rating: 4/5
Series: Torrio Empire Book 1 of 3
Tropes: Age Gap, Best Friend's Dad, Taboo, Forbidden, Dark, Mafia, Kink,
CW: replacement of Birth control, violence on page