Empire of Lies by JL Beck
Empire Lies by JL Beck features a captivating and intense male lead, who embodies both the traits of an obsessive and possessive bad boy and a nurturing Daddy figure, making him a standout character in the realm of dark romance.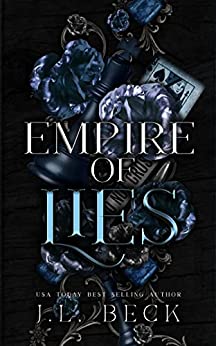 I thoroughly enjoyed reading Book 1 of this trilogy, as I have a soft spot for the obsessive, possessive bad boy trope, but also a Daddy.  Moving on to Book 2, Empire of Lies, JL Beck does not disappoint. The story picks up where we left off, with arms dealer Callum Torrio and his infatuation, 22-year-old Bianca, who happens to be his daughter's best friend and many years his junior.
Bianca, despite suspecting she has feelings for Callum, had previously fled from his obsessive advances. However, she soon discovers a shocking secret that could change everything.
Although the obsessive nature of Callum's passion for Bianca may be considered eye-rolling in the hands of another writer, JL Beck does an excellent job of committing to her characters without apology, fearlessly exploring their mania and making for a page-turning read. However, readers should be warned that there are triggers in this story.
Typically book 2 in a trilogy will struggle to find purpose and voice but not Empire of Lies. The plot develops into an intriguing 'whodunnit' that keeps the story moving at a good pace. Can Callum be redeemed? This remains to be seen.
One criticism I have is that I wish Bianca had been less of a slave to carnal lust and had given Callum a harder time, considering the shocking act he committed to influence her future (you'll have to read the book to find out more).
Overall, the story is addictive, although it ends on another cliffhanger, which I'm not entirely sure was necessary I am sure the author is setting up another series with Callum's daughter Tatum but it did at time make the story feel drawn out.
I  am excited for book 3 and to see how things resolve. 
Book Stats:
Rating: 4/5
Series: Torro Empire
Tropes: Mafia, Dark Romance, Alpha Hero, Age- Gap, Daddy, Dirty Talker, Forced Proximity, anti hero, age-gap