Drinks with the Bees' Quick Shot of Romance Only When It's Us
On Today's Quick Shot of Romance We are reviewing:
Chloe Liese's Only When It's Us. This is book one in the Bergman Brother's Series.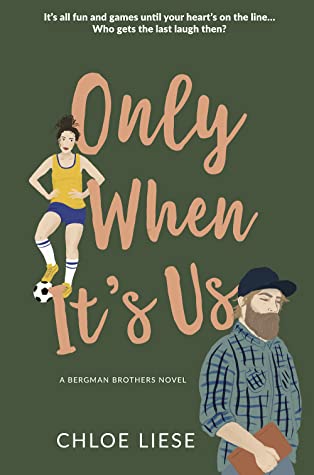 Prepare for an emotional rollercoaster brimming with laughter, tears, and slow-burn sexiness in this new adult romance that tackles the vulnerability of love with humor and heart.
About Chloe Liese : Chloe writes inclusive romance because she believes everyone deserves a love story. Portraying underrepresented experiences, her romances embrace humor, heart, and heat, with a dash of nerdiness for good measure. She's an avid reader, lover of leggings, and can't eat enough mint chocolate ice cream. In early 2019 Chloe received the diagnosis of Autism Spectrum Disorder (formerly aligned with Asperger's Syndrome). She is a vocal proponent and supporter of #OwnVoices writing to represent ASD and other marginalized voices.
Good Reads: https://www.goodreads.com/book/show/51975973-only-when-it-s-us
Becky's Review: https://bookcaseandcoffee.com/only-when-its-us-by-chloe-liese/
Brittni's Rating: Champagne ALL NIGHT LONG ! Multiple Bottles of Champagne
Becky's Rating: Magnum of Champagne !
Quick Shot Rating System:
1 star- Beer (good ole Natty lite)
2 star- What's on special… give me what you got available
3 star- Well drink
4 star- Whiskey (smooth, get what you need out of it, and be done)
5 star- it's a champagne night
Where you can Find us.
Facebook: https://Facebook.com/bookcaseandcoffee
Instagram: @brittnivan07 @drinkswiththebees @bookcaseandcoffee
Becky: https://Goodreads.com/bookcaseandcoffee
Brittni: https://www.goodreads.com/user/show/60204776
Music by Cambo
Itunes | Spotify | Stitcher | Google | RSS Feed
All inquires about the podcast or interested in us reviewing your book can be sent to [email protected]