De-café review of Catastrophe Queen by Emma Hart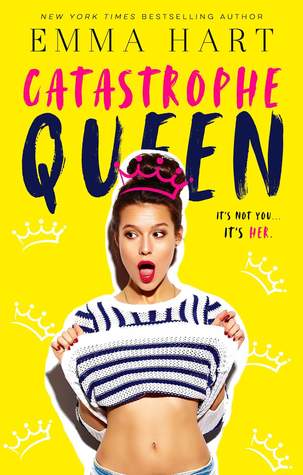 **What is a de-café review** It is a quick snapshot review of a book. Nothing to in depth just the light basics of the story and I think it is worth reading. ****
Hot Damn Emma Hart you make me giggle out loud while listening/reading your books. I was looking for something fun and flirty to listen to while I do my daily walk on the treadmill. I wanted something easy to help pass the time while I walked to nowhere. Boy did you deliver.
Meet the Characters:
Mallory is one sassy, sarcastic and slightly klutzy.
Cameron- real estate broker, slightly a mama's boy and not so klutzy
From Pink Flamingo underwear in the street at their Meet Cute to the contestant spilled coffee this book will keep you laughing. Throw in a sassy mouth Great Aunt and a grumpy grandpa just to keep you guessing what is next. Emma Hart has a way of writing her character that keeps you engaged completely. You will start this book and not be able to put it down. Do yourself a favor while reading this don't drink a hot cup off coffee, than you would be like me and end up spraying it out in style.