A Kiss for A Kiss | Helena Hunting
There's a small complication.
A beautiful, sexy complication named Hanna.
A Kiss for A Kiss, an all-new second chance-at-love mature adult romance from New York Times bestselling author Helena Hunting is available now!
I'm Jake Masterson, single dad, and the General Manager of Seattle's NHL team. I walked away from a career as a player so I could raise my daughter. For the last twenty-plus years, Queenie has been my main priority, but now she's getting married.
And there's a small complication.
A beautiful, sexy complication named Hanna.
She's my son-in-law's older sister. Or at least that's how they were raised. The truth is a little more scandalous than that.
I've been drawn to her from the moment I laid eyes on her. And I spent months trying to keep a lid on that attraction.
Until we finally give in.
It starts with one searing kiss, but quickly ends with us between the sheets—and in the shower, and the hot tub, you get the picture—and turns into months of sneaking around.
Here's the problem: we live on opposite ends of the country. It can't be anything but casual. And as I've already said…it's complicated.
But when Hanna finds out she's pregnant…suddenly things get real serious.
Fall in love today!
FREE in Kindle Unlimited
Amazon: https://amzn.to/3broHRD Amazon Worldwide: http://mybook.to/AKFAK
Add A KISS FOR A KISS to Goodreads: https://bit.ly/3w4SirW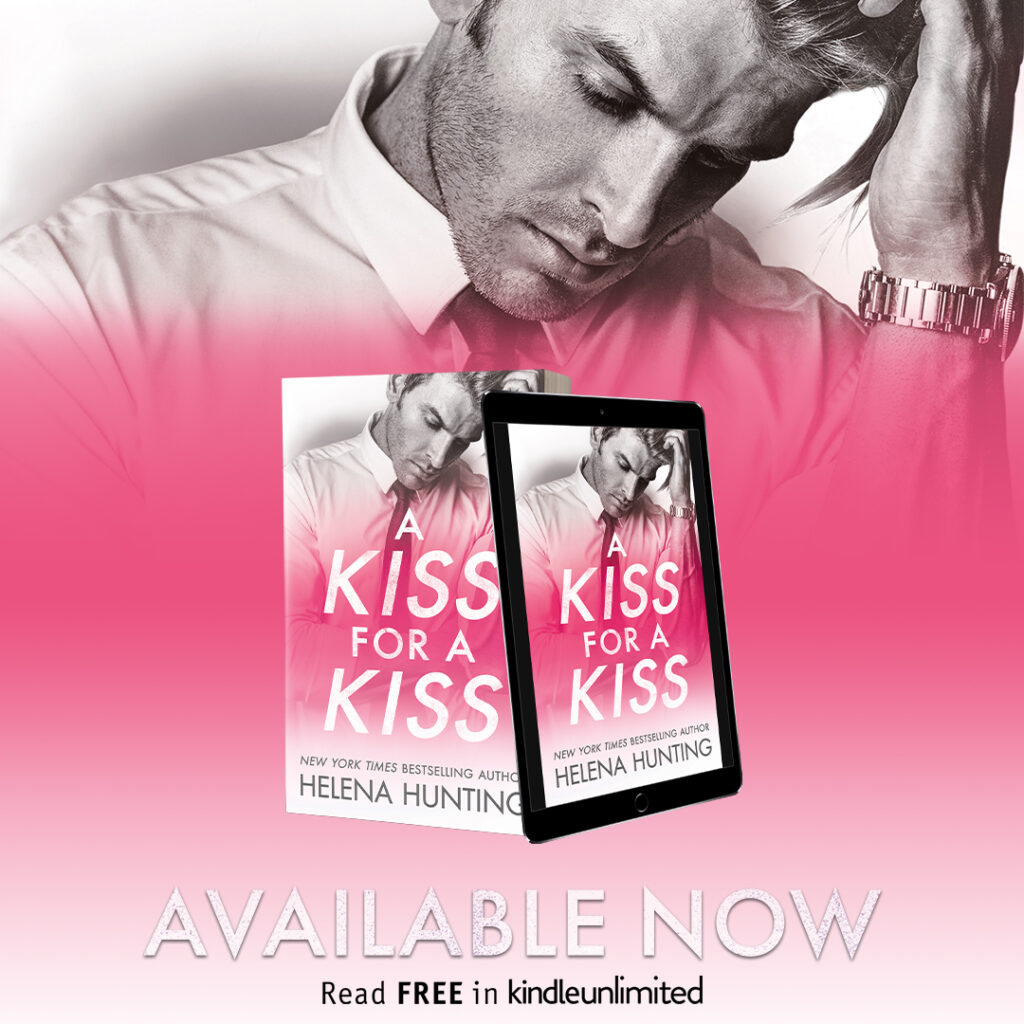 Heather's Review:
Sometimes when a book is hyped and you are so excited for these characters to get their story….you also are afraid to read it because what if the book doesn't live up to the hype or do you don't love the characters as much as you thought? I am here to tell you that this book lives up to the hype.  And it was worth the wait.  I loved Jake and Hanna from the start and was shipping them HARD even though it seemed a little tangled for their lives.  But how their story unfolded was magical. They each had their own pain and struggles in their lives that forced them to put aside their needs, their dreams, and their goals for the sake of their children.  As a mother I could feel the love they each had for Queenie and Ryan and their desire to make sure they were happy, and were set on sacrificing their happiness once again for them.  Until fate stepped in.  I am usually not a fan of accidental pregnancies and as a woman in her 40's the fear and anxiety around a high risk pregnancy had my blood pressure rising.  There were a lot of raw emotions. I adored how Jake navigated Hanna's strong independence streak, while still letting her know what he wanted and needed.  He pushed but allowed her space and time to make her down decisions.  And he was fiercely protective of Hanna and her needs.  
As much I adore Jake and Hanna, the real stars for me were Ryan (King) and Hanna. Their journey just started in A Secret for a Secret and watching their relationship evolve and how to navigate their roles in each other's lives was just as beautiful as Jake & Hanna's story.
Truth be told, King has some of my favorite quotes in the book. I'm not sad that we got a lot more of Queenie and King….they really are a perfect pair. Of course Violet and Bishop had some amazing one liners that were perfectly placed and the hilarity that ensues when they are around were definite highlights for me!
Helena is known for her humor, and there is a fair amount of humor but the deep emotional parts of this book had me crying several times. A Kiss for a Kiss is a beautiful emotional ride that is worth the price of admission. I think this is a must read for everyone, but you have to read the whole series because the cast of characters is not one you want to miss. They are epic. So funny. So unique. If you enjoy a well deserved HEA, a little angst and a hottie that understands that a strong independent woman is the best kind of woman then this book should be next on your TBR! Another FIVE star read from Helena!