Unpredictable Cover Reveal
Unpredictable part of the Love in LA Standalone Series  by Jenna Hartley
Releases July 1st, 2020
https://bit.ly/UnpredictableLA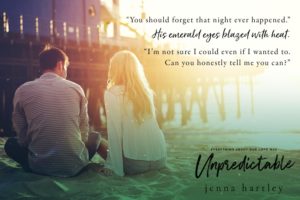 Sleeping with the father of the bride—a former NFL player and one of
Hollywood's most eligible bachelors—was not part of the plan.
It was only supposed to be one night.
One night to forget.
But he made me feel wanted.
Reckless.
Alive.
I'd been down this road before, and it only ended in disaster.
Was I willing to risk my heart again?
??COVER REVEAL!??
Check out this gorgeous cover for Unpredictable by Jenna Hartley.
Releasing July 1st, this is Juliana and Harrison's passionate, age-gap
romance. A story of love after loss and second chances. Go take a peek at
this sizzlin' excerpt



https://www.authorjennahartley.com/unpredictable-excerpt

and #oneclick this amazing story today!
?Preorder Unpredictable: https://bit.ly/UnpredictableLA
?Add to your TBR:

https://bit.ly/UnpredictableTBR

? FREE in #KindleUnlimited
?Standalone Romance
Don't miss out on any of Jenna's upcoming books, giveaways, and important
news! Sign up for her bi-monthly newsletter!

https://bit.ly/JennaHartleyNews

Cover Design: LJ Anderson of Mayhem Cover Creations
About Jenna Hartley
Contemporary romance author, Jenna Hartley writes about strong, independent women and the men who dare to love them. Her characters aren't perfect; they're authentic. Her passion is to make their stories feel as real for readers as they do to her, infusing each one with sexy, sweet, and
laughable moments that reflect real love.
When she's not writing, Jenna spends her days chasing after a hilarious and
imaginative toddler, as well as hunting down new allergy-friendly recipes
for them to cook together. She lives in Texas with her family and loves
nothing more than a good book, good chocolate, and Topo Chico.
✶ Read Jenna's books FREE in Kindle Unlimited:
amazon.com/author/jennahartley
✶ Instagram: https://bit.ly/JennaHartleyIG
✶ Bookbub: https://bit.ly/JennaHartleyBB
✶ Facebook: https://bit.ly/JennaHartleyFB
✶ Goodreads: https://bit.ly/JennaHartleyGR
✶ Website:

https://www.authorjennahartley.com

✶ Join the Hopeful Romantics:

https://www.facebook.com/groups/hartleyshopefulromantics/

Keep scrolling for more teasers/graphics