Iced Out by Veronica Eden
Iced Out by Veronica Eden might be one of the mostly delightful discoveries of new authors in 2023.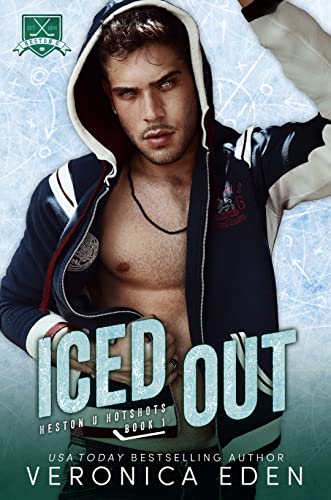 Brace yourself for a riveting ride, featuring a love interest who happens to be the heroine's brother's rival, a compelling twist that sets the stage for an irresistible dynamic. And the cherry on top? The captivating world of the Heston U Hotshots series with its breathtaking inaugural installment, "Iced Out"!
Indulging in my infatuation with hockey romances, I eagerly embarked on this adventure, and boy, did it exceed all my wildest expectations! This is a reading experience that will leave you breathless from the very first page. Often, I refrain from New Adult/ College Romances but boy I am so glad I gave this one a chance. The premise that embodies sheer perfection, this gem boasts an array of tantalizing elements that will have your heart racing with delight.
Our hero, Easton, succumbs to the intoxicating allure of love before anyone else, adding an extra layer of excitement to the narrative. Prepare to be swept off your feet! Prepare to be utterly captivated by Easton's intoxicating charisma, irresistible determination, and flirtatious nature. This incredible hero will leave you weak in the knees and longing for more. "Iced Out" is an absolute triumph, an exquisitely crafted masterpiece that had me utterly obsessed from the very beginning.
Maya, scarred by a failed relationship with a fellow hockey player, had vowed to steer clear of such heartache. But fate had different plans, entangling her in Easton's web of enchantment. The ardent determination with which Easton sets out to woo her is nothing short of breathtaking. Discovering their shared alma mater, he realizes that destiny has conspired to bring them together, compelling him to seize the opportunity and unleash his irresistible charm.
"…little lava pockets of cheese and sauce and bread are too fucking tempting to resist. If I try to eat one or two, it's like I black out and suddenly I'm twenty pizza rolls deep."
Proximity takes center stage as fate weaves its intricate tapestry, bringing Easton and Maya together. The moment their eyes meet during a game, Easton's focus falters, captivated by Maya's irresistible charm. Little did he know that their paths would intertwine once more at a bar, where he gallantly comes to her rescue, proving himself a true hero. The revelation that Maya is the sister of one of his team's rivals sets the stage for a tumultuous and passionate connection, defying all odds.
I immediately knew this was an author of my heart due to the addition of the ingenious of a team roster, complete with an ensemble of vibrant players and coaches, as well as a campus map. This delightful touch injected a whimsical sense of fun into the story, ensuring an immersive experience like no other. I was instantly enthralled!
Not only does "Iced Out" deliver an intoxicating romance, but it also boasts an array of captivating side characters who add depth and vibrancy to the narrative. I found myself deeply invested in their individual stories, yearning for their own dedicated books.  Maya and Easton were both thoughtful characters. They are navigating the complicated world of the space between and student and adult.  Easton is book boyfriend material.  This a must add to your TBR.
Book Stats:
Rating 5/5
Series – Heston U Hotshots
Tropes: Sports Romance, Hockey Romance, New Adult, College, Rival's sister, Frenemies to Lovers, Meet cute, He falls first,
Third Act Break Up- No
CW- Grief, and loss of parent