THE WEDDING DATE DISASTER
By Avery Flynn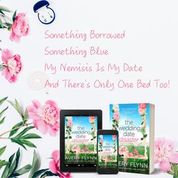 Blurb
I can't believe I have to go home to Nebraska for my sister's wedding. I'm gonna need a wingman and a whole lot of vodka for this level of family interaction. At least my bestie agreed he'd man up and help. Too bad he had to catch a different flight than me. Then his plane got delayed. And finally—because bad things always happen in threes—instead of my best friend, his evil twin strolls out of the airport.
If you looked up doesn't-deserve-to-be-that-confident, way-too-hot-for-his-own-good billionaire in the dictionary, you'd find a picture of Will Holt. He's awful. Horrible. The worst—even if his butt looks phenomenal in those jeans.
Ten times worse? My buffer was supposed to be there to keep me away from the million and one family events. But Satan's spawn just grins and signs us up for every. Single. Thing.
Fine. "Cutthroat" Scrabble? I'm in. I can't wait to take this guy down a notch.
But somewhere between Pictionary and the teasing glint in his eyes, our bickering starts to feel like more than just a game…
Buy Links
Amazon: https://amzn.to/3dQF4ql
Kobo: https://bit.ly/3bHj67o
Apple Books: https://bit.ly/FlynnTWDD
Target: https://bit.ly/2CGrpEA
Walmart: https://bit.ly/2WPRYxS
Books A Million: https://bit.ly/2EfbNbF
Goodreads: https://bit.ly/3bKBJHm
Enemies to lovers, secret identity, rom com, #TWDD, #AveryFlynnRomCom, #onebed
Will fucking Holt suddenly looked like he wanted to kiss her until they both self-combusted. And damn her mutinous body, at that moment she knew exactly how he felt.
Will was drowning in Hadley and he couldn't think of a better way to go.
How did he always produce this hot, flushed, so-damn-bothered involuntary reaction just by existing in the same room as her?
"Are you flirting with me, Hadley Donavan?"
He looked exactly like her best friend—duh, they were twins—but she had never been tempted to kiss Web.
Hadley Donavan was about to find out firsthand just how good the bad Holt twin could be.
Will was the last guy she was going to put on a front—or Spanx—to impress.
She was dangerous. She was the enemy. She was his brother's friend, in it only for the potential payoff. Still, Will wanted her.
"Chemistry Doesn't Lie – There's Only the Lies We Tell Ourselves
The Wedding Date Disaster has everything you want in a romance: deep connections, a bit of angst, sizzling chemistry, a hot and steamy romance, the love of family, a lot of laughs and ultimately, redemption.
What you need to know about The Wedding Date Disaster:
✔ Enemies-to-Lovers romance
✔ Complete stand-alone
✔ Contemporary romance
✔ Forced proximity
Best friend's TWIN brother"
—Kate Grand {A Grand Romance}