Quick Shot of Romance: The Relationship Pact by Adriana Locke
On Today's Quick Shot of Romance we are reviewing The Relationship Pact by Adriana Locke
Synopsis from Good Reads: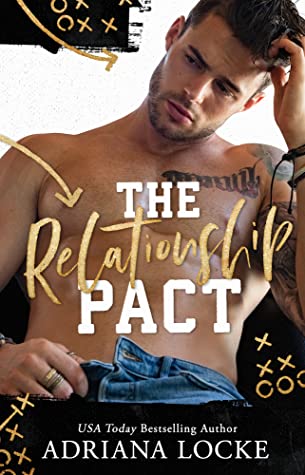 How hard can it be?

That was the question rolling around Larissa Mason's mind just before she asked Hollis Hudson to be her fake boyfriend.

It was only supposed to be for five minutes, after all.

Granted, that was also before she felt his hand on the small of her back as he charmed the heck out of her family.

And it was definitely before she saw the football god shirtless. Otherwise, she would've had an idea of just how hard some things could be.

It turns out that pretending to be in love with a crazily handsome, somewhat enigmatic, and absolutely unforgettable tight end (that has an amazing tight end) is easy.

Reminding herself that just because opposites attract doesn't mean they're forever is much harder.

What they have isn't love—it's a relationship pact. Right?
Release Date: December 17th 2020
Trope: New Adult Genre, sports hero, fake relationship, instant connection.
Brittni Rating: Champagne All Night! The Largest Magnum of Champagne we can find!
Becky Rating: Champagne All Night!
Or you can watch us on The Youtube! https://www.youtube.com/channel/UCC-Ph8o87bUfCs8CiBZcz2Q/
Where you can Find us.
Patreon: https://Patreon.com/Drinkswiththebees
Facebook: https://Facebook.com/drinkswiththebees
Instagram: @drinkswiththebees
Music by Cambo
Itunes | Spotify | Stitcher | Google | RSS Feed
All inquires about the podcast or interested in us reviewing your book can be sent to [email protected]