Q is for by L Dubois takes us back to the world of the BDSM Checklist. I have visited the Las Palmas BDSM Club occasionally  and each time I visit it in the Checklist Series by L Dubois I enjoy my visit!
The Overseers of Las Palmas BDSM Club have thrown out the checklist assignment. This is where each member is a assigned partners to engage in kinks starting with a specific letter.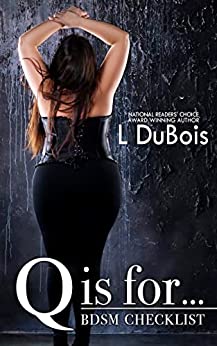 In Q is for we meet Tareq and Nomi.
This was fantastic instant connection with great banter and so much heart.
Nomi was this incredibly strong and resilient woman. I just loved her. The author did an amazing job with her Fat Rep descriptions in this book. And real plausible sexual positions based on body size. It was a big focus of the book but due to Nomi's education and her wealthy it did not fight fatphobia the way I think the author intended. I think that in this book the author tried to take a step towards addressing classism in weight, but it felt disingenuine.
Tareq is a hero you almost instantly fall in love with. He is sensitive to her feelings and needs. He does everything he can to not just meet his need for dominance but create a real and safe connection for Nomi. But the reader does not really know him. We don't get a ton of insight into his background other than his ethnicity.
This was a fast an easy read. It just what you expect when you pick up a BDSM title. The exploration of the 2 bodies as they reach the height of pleasure. Consent is very prevalent in this book and lots of communication and discussion about the steps they are taking and works for both.  I won't spoil what the Q is for… You will have to read to find out!
Book Stats:
Rating: 4/5
Series: BDSM Checklist
Tropes: Kink, BDSM, Dom/s, real body, fat rep , instant connection, praise kink
CW: Internal- perceived fatphobia.
If you enjoy Spicy Reads check out our episode Oh so Spicy, where we recommend a ton of sexy read similar to the BDSM Checklist