Product Review- Tablet Lap Pillow
The Tablet Lap Pillow is a handy accessory for anyone who likes to use their tablet while sitting or lying down. The pillow is designed to hold your tablet securely in place, while also providing a comfortable surface for your lap.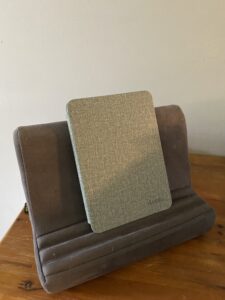 One of the standout features of this lap pillow is its versatility. It can be used with a wide range of tablets, including iPads, Kindles, and Android devices. Each side of the pillow has a different incline the tablet lays against so the user can find a comfortable angle for their use. It also has 3 trayed edges on each side creating the gradient for which the table will lay. This is a great way to help with glare depending on where you are reading.
The pillow itself is soft and comfortable, with a plush exterior. It's also lightweight and easy to carry around, making it a great option for use at home, at work, or on the go.
The Tablet Lap Pillow is a well-designed accessory that provides a convenient and comfortable way to use your tablet. Whether you're watching movies, browsing the web, or reading a book, this lap pillow is sure to enhance your tablet experience. Highly recommended!
All links on this page to you to the Bookcase and Coffee Amazon Affiliate Link