A Cozy Fall Delight – Her Favorite Jack-o-lantern by Rebecca Rennick
Found by chance off Tiktok but Rebecca Rennick is a new to me author and am excited to see more stories from her.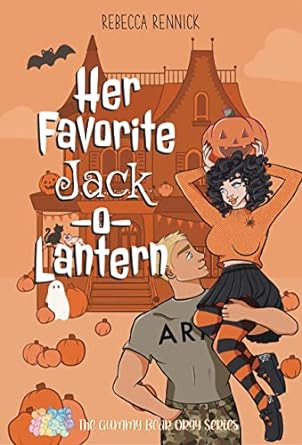 Rating: ★★★★☆
If you're searching for the perfect autumn read to kick off the spooky season, "Her Favorite Jack-o-lantern" by Rebecca Rennick should be at the top of your list. This heartwarming tale brings together two wonderfully crafted characters. Sally, a Halloween-obsessed free spirit, and Jack, her new neighbor and former high school crush. This book is a delightful blend of Wednesday Addams' quirkiness and the nostalgic charm of "Sixteen Candles" – minus the sociopathy!
Rebecca Rennick's writing immediately captivated me, making this my first but certainly not my last read by this talented author. The story unfolds in a charming neighborhood setting. Sally is not afraid to be herself despite being labeled as a "freak" by most. Her unwavering commitment to her unique style and passion for Halloween is both endearing and relatable.
One of the highlights of this book is the strong camaraderie among Sally's friends. Their loyalty and support add depth to the story and make it even more enjoyable. But the star of the show is undoubtedly Jack, the handsome ex-Army Sergeant who moves in next door. His character is beautifully written, and his acceptance of Sally's quirks is heart-melting. The way he takes the time to understand her and appreciates her for who she truly is makes him a swoon-worthy romantic lead.
However, it's worth noting that "Her Favorite Jack-o-lantern" did encounter some pacing issues in the second half of the story. While the beginning was engaging and drew me into the characters' lives, the latter part felt a bit drawn out. The charm of the characters and the overall warm, cozy atmosphere of the book kept me invested until the very end.
"Her Favorite Jack-o-lantern" is a delightful read for anyone who adores autumn, Halloween, and quirky, relatable characters. Rebecca Rennick's writing and character development are noteworthy. While the pacing may waver at times, it's a minor flaw in an otherwise enchanting story. This book is a perfect way to usher in the Halloween season. It is sure to leave you with a smile on your face and a longing for more of Rennick's writing.
Book Stats:
Rating 4/5
Tropes: autumn-themed, book-boy-friends, close-proximity, dirty-talker, floof-in-charge, found-family, friend-group, girl-gang-series, grumpy-sunshine, holiday-romance, instant-attraction, meet-cute, neighbors, no-3rd-act, opposites, protector, rom-com, small-town, veteran
Series: Gummy Bear Orgy