Ep 83: Plotting out the Challenges of Writing with Mariah Ankenman
On this episode of Buzzing about Romance Becky and Leah chat with author Mariah Ankenman.  Mariah has been very open to the challenges she faces while being a writer with dyslexia. We are also going to chat about her upcoming release The Dating Dilemma  book 2 in the Mile High Firefighter Series.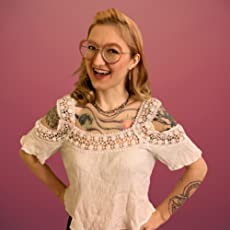 Meet Mariah:
Bestselling author Mariah Ankenman lives in the beautiful Rocky Mountains with her two rambunctious daughters and loving husband who provides ample inspiration for her heart-stopping heroes.
Mariah loves to lose herself in a world of words. Her favorite thing about writing is when she can make someone's day a little brighter with one of her books. To learn more about Mariah and her books, follow her on social media or sign up for her newsletter.
Where to find Mariah:
Newsletter: https://mariahankenman.com/newsletter-sign-up/
Website: https://mariahankenman.com/
Instagram: https://www.instagram.com/mariahankenman/
Tiktok: https://vm.tiktok.com/ZMJcfWEvW/
Facebook: https://www.facebook.com/mariahankenmanauthor
Twitter: https://twitter.com/mariahankenman
Pintrest: https://www.pinterest.com/mariahankenmana/
Bookbub: https://www.bookbub.com/authors/mariah-ankenman
Goodreads: https://www.goodreads.com/author/show/15251057.Mariah_Ankenman
Amazon: https://www.amazon.com/~/e/B01DUNU4AY
Leah: Kye by Nyssa Kathryn. It's the book 8 and the final book in her Project Arma series. This was her debut series, and gave me all the suspense elements.
Becky: Heartless Sinner by Erika Wilde. It is a mafia romance. Marriage of convivence. Super sexy released on 1/18. It is book one in the Made for the Mafia Series. Vincent is an heir apparent to a large successful mafia family. He is in his 30s and his dad has degreed it is time to find a wife.. Marla is the daughter of a lower level Mafia family. She goes to Vincent to ask for help to find who murdered her brother… Vincent says he will help her if she marries him.
Discord Book Discussion: We are discussing Rushed by Aurora Rose Renyolds on Wed Jan 26th in the discord channel. You can find details on our website.
Quick Shot of Romance Buddy Read. Feb's Buddy read edition of the a Quick Shot of Romance is the Welcome to the Darkside by Giana Darling. You can find details on our website on how to submit comments, voice memos and thoughts on the book.
Drunk Book Club: February's Drunk Book Club pick is To Love Jason Thorn by Ella Maise. Our theme for February was Marriage of Convivences. This is a Hollywood-norm brother's best friend romance. February Drunk Book Club is Feb 19th.

Patreon: https://Patreon.com/bookcaseandcoffee
Facebook: https://Facebook.com/buzzingaboutromance
Instagram: @buzzingaboutormance
Music by Cambo
Itunes | Spotify | Stitcher | Google | RSS Feed