Ep 80: Corset and Crown Edition: A Drawing Room Chat with author Beverly Jenkins
On this Episode of Buzzing about Romance Becky joins Duchess Katie and Lady Sadie for a Corset and Crown drawing room chat with Historical Romance author Beverly Jenkins. They talk about her evolution as a writer and the stories she still has to tell.
Meet Beverly Jenkins: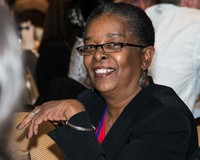 Beverly Jenkins is the recipient of the 2018 Michigan Author Award by the Michigan Library Association, the 2017 Romance Writers of America Nora Roberts Lifetime Achievement Award, as well as the 2016 Romantic Times Reviewers' Choice Award for historical romance. She has been nominated for the NAACP Image Award in Literature, was featured in both the documentary Love Between the Covers and on CBS Sunday Morning. Since the publication of Night Song in 1994, she has been leading the charge for inclusive romance, and has been a constant darling of reviewers, fans, and her peers alike, garnering accolades for her work from the likes of The Wall Street Journal, People Magazine, and NPR. If you would like to be notified when Beverly Jenkins has new releases, events, and other news, sign up for her free newsletter at www.beverlyjenkins.net
Where to Connect:
https://beverlyjenkins.net/
https://www.facebook.com/AuthorBeverlyJenkins/
https://twitter.com/authorMsBev?ref_src=twsrc%5Egoogle%7Ctwcamp%5Eserp%7Ctwgr%5Eauthor
https://beverlyjenkins.us17.list-manage.com/subscribe?u=23c7a515a70275d84247b32fc&id=382dc9cbdb
Special Quick Shot of Romance Episode: We are hosting are first ever Buddy Read Quick
Shot of Romance. Our first selection will be Indigo Ridge by Devney Perry. Read the book along with us. Send us any thoughts, quotes or questions you have about the selected title via our google form. You can send these via the form email or Voice memo.
We ask that you please submit us voice memos, thoughts, questions or quotes about the book by Jan 8th. You can find details on the website.
Book of the Week:
Leah: Pretend you Want Me Wilde Ways #13 by Cynthia Eden. It's a romantic suspense book that blends two of her series.
Becky: Fractured Heart by L M Dalgleish. It is a Rockstar romance. It is in Kindle Unlimited. It is about finding love again. That second chance at love. Love through grief.
Do you have a topic you think we should talk about? We are always looking for new episode ideas and we would love to hear from you? Send us an email at [email protected]
Next Up : It is time to build the ultimate Special Ops Team. Podcast Contributors Rachel and Heather will be going head to head with Leah as they build the ultimate Romantic suspense Book Boyfriend Special Ops Team!