Boss Man Bridegroom by Meghan Quinn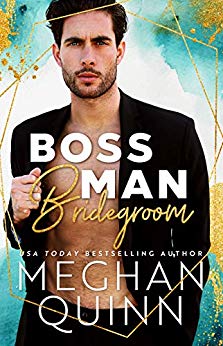 Who wouldn't love a book that starts out at what might be my own personal Mecca, an Office Supply Convention? Who knew that such a thing existed? I love a planner loving, organized, funny strong female character. Charlee is wonderful and funny . her wonderful weirdness and no filter honesty was so refreshing.
Rath having been hurt in a previously relationship is so guarded against Charlee. He is trying so hard to fight against his attraction to her. Rath has good friends who have all fallen in love. His very own bromance, Bram has fallen in love with Rath's own sister. Rath's love of Historical Romance just helps you love him more. Rath is so well written you can't help but be rooting for them.
The high points of this story for me would have to be the mischief making Grandma character, cock blasting Pictionary and that David Hasselhoff sex dream. So many cringeworthy and outrageously hilarious scenes that will forever be some of my favorites. Boss Man Bridegroom is an office romance and marriage of convenience. I read this as a standalone, but we will absolutely be headed back to read the 2 other books in this series. Do yourself a huge favor and read Boss Man Bridegroom!