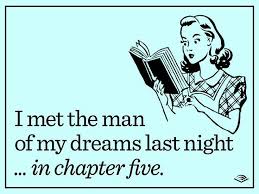 Do you have an ultimate book boyfriend? Is there one male character that melts your heart above all else? I have a few that I just love. I can read their stories over and over. I am not sure why certain characters do it for me. It could be the way they interact with the female character. Maybe it is their actions with the outside world. It could be their confidence. I sometimes look at my own life and what attracted me to my partner and see what attracts me to the character is mirrored. Sometimes it is and sometimes it is the opposite of my husband.
THE LIST:
#10 Shae Adler from Taking Shot by Toni Aleo
#9 Hunter from Down & Dirty by Tracy Wolff
#8 Marc Dupuis from Major Misconduct by Kelly Jamieson
#7 Colin Bridgerton from Romancing Mister Bridgerton by Julia Quinn
#6 Jesse O'Neill from Hammered by Jasinda Wilder
#5 Adam from Four Day Fling by Emma Hart
#4 Theo Buchanan from Mercy by Julie Garwood
#3 Clayton Westmoreland from Whitney my Love by Judith McNaught
#2 Jason Thorn from To Love Jason Thorn by Ella Maise
#1 Mr. Darcy from Pride and Prejudice by Jane Austen
As I look at the list, I realize I kind of have a type. Most of these guys are the strong silent observer. Most have a strong sense of family. These men also seem to desire women who you might consider the wallflower, but they also realize that the women they love have much to offer to the world. These men allow the women they love shine and do all they can to support them. None of the women in these stories are flashy in your face obvious choices. Most of the women in these books are relatable to me. Most seem to have confidence issues.
I do think it takes a certain man to help some women understand they are desirable. When a woman has insecurity or lacks confidence, it takes a just as stubborn man to push through all those layers and help her realize what she has in valuable. Not all men could do this. That is one of the key elements of being in love with a person. To truly love, you must be able to bring out the best in your partner. There is also a level of acceptance of the other person and loving and accepting them where they are.
All these men in these books are they type who love these women where they are at, accept them for who they are and don't try to chance them. It was once said to me that by reading romance I am setting myself up for disappointment. I disagree. It has helped me find one of the good guys. My husband is super supportive. He constantly lifts me up and helps me achieve my dreams. He isn't afraid to let me shine while standing at my side. By reading romances I am reaffirming I picked an amazing partner.
People should go out and seek love that makes you a better person. A love that builds you up. A love that is all consuming but also allows you to shine to others. Love is Love is love!