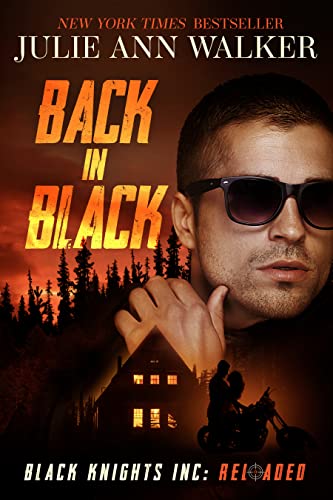 POV: 3rd Person Multi
Put out percentage: 63%
Tropes: Second Chance; Heroine In Danger; Secret Ops; Slow Burn
Series: Black Knights Inc: Reloaded
Type of Series: Series of Interconnected Standalones
Release Date: August 29, 2023
Is there a 3rd act break up: Yes
Julie Ann Walker returns to her Black Knights, INC series with this second installment. I did not read the original Black Knights, Inc series and I am vowing to go back to see just what I was missing. This set of book opens with the story of Hunter Jackson and Grace Beacham coming back together after two years. They worked together on a case and had an intense connection, but instead of acting on those feelings went their separate ways.
Grace is in trouble and calls Hunter, and he doesn't hesitate at jumping to help her. But this time, neither one is willing to dismiss their feelings. Julie Ann Walker speeds this book along in a quick timeline turnaround but doesn't not feel rushed. There is something happening on page from page one to the very last while overlapping this storyline with the upcoming book. We meet the rest of Hunter's team as well as a computer hacker from one of his teammates past, but you need to read the story to get the true nuances of their interaction.
Hunter is a man who believes that he is unworthy of the love from Grace, but Grace shows him that no matter what he is worthy of it all. From page one to the end, this story moves at a brisk pace, but it works well and there are no disjointed moments. The Black Knights world is intriguing and fun. There is not stop action and the flow of all the characters is perfection. These stories will need to be read in order because of the flow of the stories but they are worth the time.
Check out these other items about Julie Ann Walker
Quick Shot of Romance: Deeper than the Ocean