Anticipated Up Coming Releases 6/20-July 2021
One of the things I love best about summer is all the amazing releases that get dropped just in time for vacation. I am loading up my kindle and wish list. There are so many amazing books coming out. If we missed one you are anticipating let us know! We will make sure to check it out.
The Rule Maker by Gina Azzi – Releasing 6/23
NHL Boston Hawks captain Austin Merrick used to be my boy-next-door. Now, he's the man on my mind. Our paths haven't crossed in over a decade when I find myself back in Boston, desperate to save face in front of my ex-fiancé. With a devilish smirk and wicked blue eyes, Austin steps back into my
to be my plus one for a summer filled with weddings and events.
Should be fun and effortless, right?
Then why the need for rules?
And why do I crave his touch at the small of my back and wish for his kiss on a moonlit beach?
Suddenly, things begin to feel complicated, messy, and real. When I look at my first friend, I don't see the boy-next-door, but the man I want to spend forever with.
If Austin learns the depth of my feelings, will he give us a real chance? Or are some rules better left unbroken?
The Next Mrs. Russo by Jana Aston -Releasing 6/22
I was not looking for a date.
Another questionable relationship was the last thing I needed.
Because trust me, they were all questionable.
But through a series of unfortunate events involving my cat and
his poor decision-making skills, I agreed to a set-up.
Except… the set-up is with the governor.
I am not political girlfriend material.
For one, I'm a little bit crazy.
For two, I have secrets.
But I also have a big crush on the governor.
One little date can't hurt, right?
Spoiler: it can. My big crush is going to end in big trouble.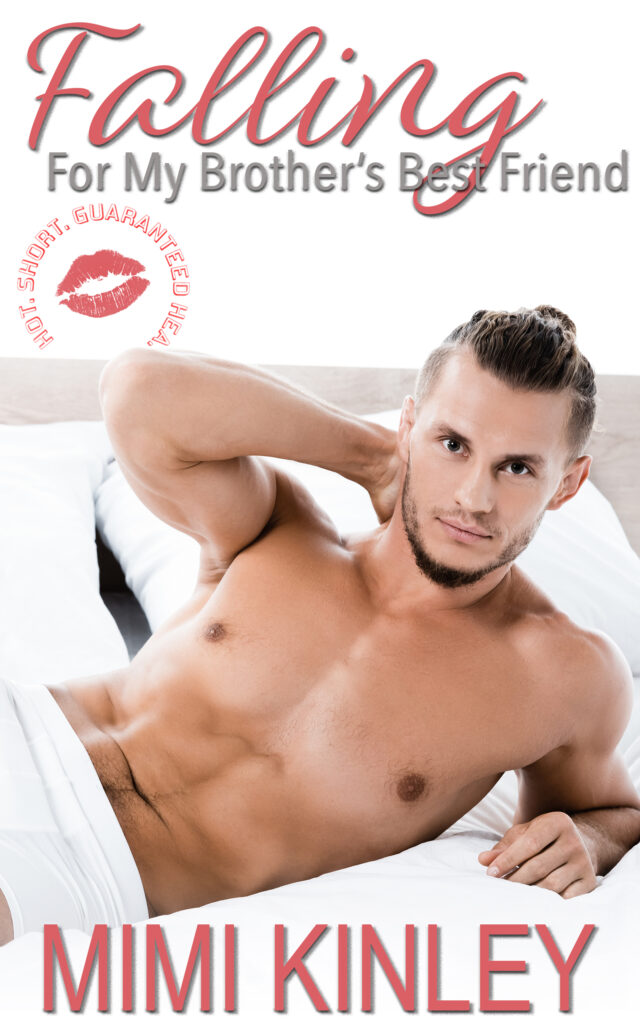 Falling for my Brother's Best Friend by Mimi Kinley -Releasing 6/28
Vanessa
All I need is a week at my brother's house in Cabo, by myself, to break out of this writer's block. I've already missed my deadline and I'm desperate—I mean desperate—for a little inspiration and solitude.
What my brother forgot to tell me that his best friend, Will, is staying there too.
I'm not sure how I'll survive the week with the hurricane of a boy I remember from childhood. That is, until I see the grown-up, insanely hot man he's become.
Suddenly solitude doesn't seem so important.
And I think I might just find that inspiration I am looking for.
Will
After a surfing injury took me out of the pro circuit, I've been floating from place to place without much to anchor me.
But when Vanessa Hill shows up, looking like the centerfold of my dreams—I suddenly have a reason to find my purpose.
And I'll be damned if it isn't with her.
My Lucky #13 by Piper Rayne – Releasing 6/29
Lucky.
The one adjective used to describe my entire hockey career. I prefer to call it hard work, at least I did until my game went to complete crap. I haven't scored in eight games and my team owner is talking about trading me.
I've never believed in superstitions. Never needed one. I suppose I was "lucky" in that way. But now the best way to refer to me is desperate. I'd wear the same socks for an entire year just to be the high-scoring center I used to be.
Imagine my surprise when after spending New Year's Eve with a woman, I score a hat trick in the next game—that's three goals in one game for you non-hockey lovers. Now, I have to track her down and bribe her to do it again before every game. Get your mind out of the gutter, I'm not talking about it.
I find her and when I get to know her better, I end up spending more time thinking about her than my game, but she's made it clear she wants no part of me. She's going to learn that I didn't become a professional hockey player without having to fight for what I want.
The Exception by Lauren H Mae and Rosalie Rooks
Book 3 in the Summer Night Series Release 6/30
Sonya Pope is pragmatic, always rational, and has no time for setbacks, so when she arrives at her elopement to find her fiance wants to break up rather than get married, she uses the flight home to reprioritize. But when a woman on the plane has a medical emergency, she puts her mental list-making on hold and jumps to action. Unfortunately, so does the cocky, almost-paramedic two rows back.
Ben "Trav" Travis totally got to that patient first, but the cranky nurse with the pretty brown eyes made a big show of taking charge. Sure, he might be one clinical rotation away from actually being a certified paramedic, but he has real-life experience. The kind he wouldn't wish on anyone.
When Trav shows up at the hospital two days later to find the same woman is his preceptor, a second battle begins. Trav's got too much riding on this to let a woman with a chip on her shoulder make his life miserable, and Sonya's not about to let a pretty-boy with an adventure complex disrupt the one area of her life that she still has control over. But when a patient they both grow to care about needs their help, their head vs heart battle sparks into something neither one of them trained for.
The Spark by Vi Keeland Releasing 7/12
Before I even met Donovan Decker, I knew his shoe size.
You see, I'd gone away for a few days, and in my haste to get out of the airport, I'd grabbed the wrong suitcase.
After checking out the expensive footwear and tailored clothes, I dialed the number on the luggage tag hoping maybe Mister Big Spender might have my bag. A deep, velvety voice answered, and as luck would have it, he had my suitcase, too.
Donovan and I met at a coffee shop to do the exchange. Turned out, it wasn't just his voice that was sexy. The man holding my luggage was absolutely gorgeous, and we had an immediate spark.
He got me to admit that I'd snooped in his bag and then convinced me to make it up to him by letting him buy me coffee. Coffee led to dinner, dinner led to dessert, and dessert led to spending an entire weekend together. Donovan wasn't just handsome with a panty-dropping voice. He was also funny, smart, and surprisingly down to earth for a man who wore seven-hundred-dollar shoes.
Did I mention he also did my laundry while I slept?
Definitely too good to be true.
So what did I do to repay him for his kindness?
I waited until he was in the shower, then ghosted him.
My life was too complicated for such a great guy.
In the months that passed, I thought about Donovan often. But New York City had eight million people, so what were the chances I'd run into him? Then again, what were the chances I'd run into him a year later…when I'd just started dating his boss?
Jett by Sawyer Bennett- Releasing 7/20
Jett Olsson isn't looking for anything serious and she's not looking for anything at all, so why does it seem so hard to keep it professional?
I love my life—the thrill of being on the ice as part of the Arizona Vengeance, the rush of winning, the adoration of the fans. And if that adoration means I don't have to spend the night alone, well even better. I'm content being single and always ready to mingle.
But the day Emory Holland walks into a Vengeance team meeting my attention is caught like never before. I can tell right away she's full of smarts and sass, and the fact that she's hot as hell sure doesn't hurt either. She immediately shuts down my advances, so I opt for the road less traveled—straight to the friend zone.
My approach works like a charm, and when she invites me into her bed for a no-strings, friends-with-benefits arrangement, I vow to give her everything I have. She's been hurt before, and if I'm able to help her heal while giving her a spectacularly satisfying time *pats self on back*, then I'll be happy.
Or at least that's the lie I keep telling myself as the time ticks down on the final buzzer of our "relationship". Now the real question is, can I score the winning goal in a game neither of us realized we were playing? 
Love Next Door by Helena Hunting – Releasing 7/27
When Dillion Stitch left her hometown, she had no intention of going back. But when her brother gets into trouble, Dillion reluctantly agrees to return home to take her place at the family business.
Being back in Pearl Lake after all these years feels familiar, but also brings a few surprises. She's quick to notice that someone new has shown up at the cottage next door. Dillion gets more than an eyeful when she goes to check out the newcomer and meets Donovan "Van" Firestone—her beloved neighbor's grandson—in all his unclothed glory.
Having gotten off to a rocky start, it's not long before they begin bickering with each other all over town. All that back and forth inevitably sparks an undeniable attraction. But Dillion's family has issues, Van's family resents him, and neither Dillion nor Van feels truly at ease in the small town. For these Pearl Lake exiles, home isn't just where the heart is—it's where things get complicated.