Ep 71: Monster Romance Chat with author Katee Robert
On this episode of Buzzing about Romance we are bringing you a special Halloween edition of the podcast. We felt like this was the perfect time to talk about Monster Romances. But honestly these stories are so good do not just save them for spooky season you should be reading these all year long! Joining us to help us tackle the Monster Romance is author Katee Robert.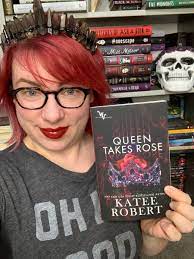 Bio: New York Times and USA TODAY bestselling author Katee Robert learned to tell her stories at her grandpa's knee. Her 2015 title, The Marriage Contract, was a RITA finalist, and RT Book Reviews named it 'a compulsively readable book with just the right amount of suspense and tension." When not writing sexy contemporary and romantic suspense, she spends her time playing imaginary games with her children, driving her husband batty with what-if questions, and planning for the inevitable zombie apocalypse.
Refrences: https://bookriot.com/romance-and-monsters/
Book of the Week:
Becky: Riggs by Sawyer Bennett! Released last Tuesday 10/26. Book 11 in the Arizona Vengeance Series. it is an enemies to lovers hockey romance. Enemies to lovers is not one of my favorite tropes but this was done really well. The progression of their relationship feels real and you totally connect with these characters. This is just the kind of book you expect from Sawyer Bennett. But what she does in the last 6% of the book is beyond EPIC. She does something that is going to change the course of Hockey Romances. Days later I am still thinking about this. I am still thinking about what she did and all the ways she now can make her mark even bigger on Hockey Romance!

Leah: Only One Regret by Natasha Madison Release on October 19. This is book 5 in the Only One Hockey Series). This book brings up full circle back to Madison's other hockey series with Mini Cooper. This a friends to lovers done right. These two have been friends for years, and have been each other's person.
Next Up (what we are discussing next time): Next time we are kicking off November and Family Series romances with one of our all-time favorite author of Family romances. Lexi Ryan will be joining us as we discussing both her DNA Family series the Boys of Jackson Harbor and her found family series Orchard Valley.

Patreon: https://Patreon.com/bookcaseandcoffee
Facebook: https://Facebook.com/buzzingaboutromance
Instagram: @buzzingaboutormance
Find Corset and Crown at:
https://www.instagram.com/corsetandcrown
Duchess Katie aka Bookstakatie : InstagramGoodreads
Music by Cambo
Itunes | Spotify | Stitcher | Google | RSS Feed