Drinks with the Bees' Quick Shot of Romance: Broken Miles
On Today's Quick Shot of Romance We are reviewing: Broken Miles by Claire Kingsley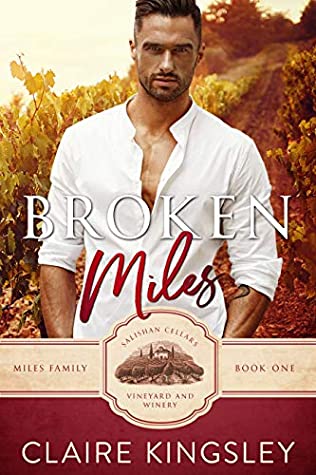 Good Reads Synopsis:

"She was unraveling me, slowly but surely. I could feel it happening. Like she was gently unbuttoning the collar of a shirt that fit too tight."
Single-minded drive earned Roland Miles success—and cost him his first love. When his marriage to Zoe ended, he did the only thing he knew. He dove into work to put his heartbreak behind him.
Zoe Sutton's life hasn't exactly gone to plan. She certainly didn't plan on losing Roland or moving home to work for his family's winery. Four years after their divorce, she wonders if her chance at happily ever after is behind her.
After discovering his family might lose their land, Roland comes home to help sort out the mess. But between his brothers' antics, a baby sister who's all grown up, and a father keeping secrets, complicated isn't even the half of it.
And then there's Zoe.
He didn't come home looking for a second chance with her. But the more time they spend together, the more he realizes what they lost. What they could have again.
Because the truth is, they broke each other's hearts. And maybe they're the only ones who can put them back together.
Author's note: A stoic hero who's soft on the inside. A sassy heroine who doesn't take any sh*t. Messy family. Lots of shenanigans. Mattress burning bonfires. And a second chance at love with a big HEA.
The Miles Family series are best enjoyed in order.
Release Date: November 18th 2019
Trope: Second Chance, small town romance, High school sweethearts, Close proximity
Rating: So Becky changed our rating system for this one since this takes place in a winery.
Rating: Tonight it is about the wine!
1 star- Boones Farm -more like kool aid with some booze in it
2 star- White Zen.. There is a reason it is $2.99 for a bottle. It is sweet with not much to it.
3 star- Pinot Grigio is a quintessential white wine. This wine type can be described as light, dry and refreshing with crisp fruit flavors like apple or pear. It is the Basic of all the wines
4 star- Syrah is known as Shiraz and is much more sweet and jam-like than the "Old World" style of Syrah. Both versions are rich in fruit flavors, yet notably complex
5 star- Chardonnay is a medium to full-bodied white wine that is grown globally but holds its own as the most popular wine varietal in America
or
Tawny ports are wines usually made from red grapes that are aged in wooden barrels exposing them to gradual oxidation and evaporation. As a result of this oxidation, they mellow to a golden-brown color. … They are sweet or medium dry and typically consumed as a dessert wine, but can also pair with a main course.
Brittni Rating: Sippin' on a Port. I'm going to pretend like I'm on a vacation there, enjoying this Tawny Port with a sweetness and richness that matches what is found throughout the book.
Becky Rating: For me this was a Chardonnay. It was well written and a great story. It set up some great characters and I can not wait to dive into their stories. I think Chardonnay is a great easy approachable wine with a lot to it and can be just as complex as some of the red varieties without the heaviness. This story was sweet and fresh.
Or you can watch us on The Youtube! https://www.youtube.com/channel/UCC-Ph8o87bUfCs8CiBZcz2Q/
Where you can Find us.
Patreon: https://Patreon.com/Drinkswiththebees
Facebook: https://Facebook.com/drinkswiththebees
Instagram: @drinkswiththebees
Music by Cambo
Itunes | Spotify | Stitcher | Google | RSS Feed
All inquires about the podcast or interested in us reviewing your book can be sent to [email protected]