Coming August 31st April French by Penny Aimes
For the Love of April French by Penny Aimes is available in eBook and trade paperback on August 31st!
An Entertainment Weekly Best Romance of Summer 2021!
"This book gave me every last one of the Intense Romance Feelings I crave." —New York Times bestselling author Talia Hibbert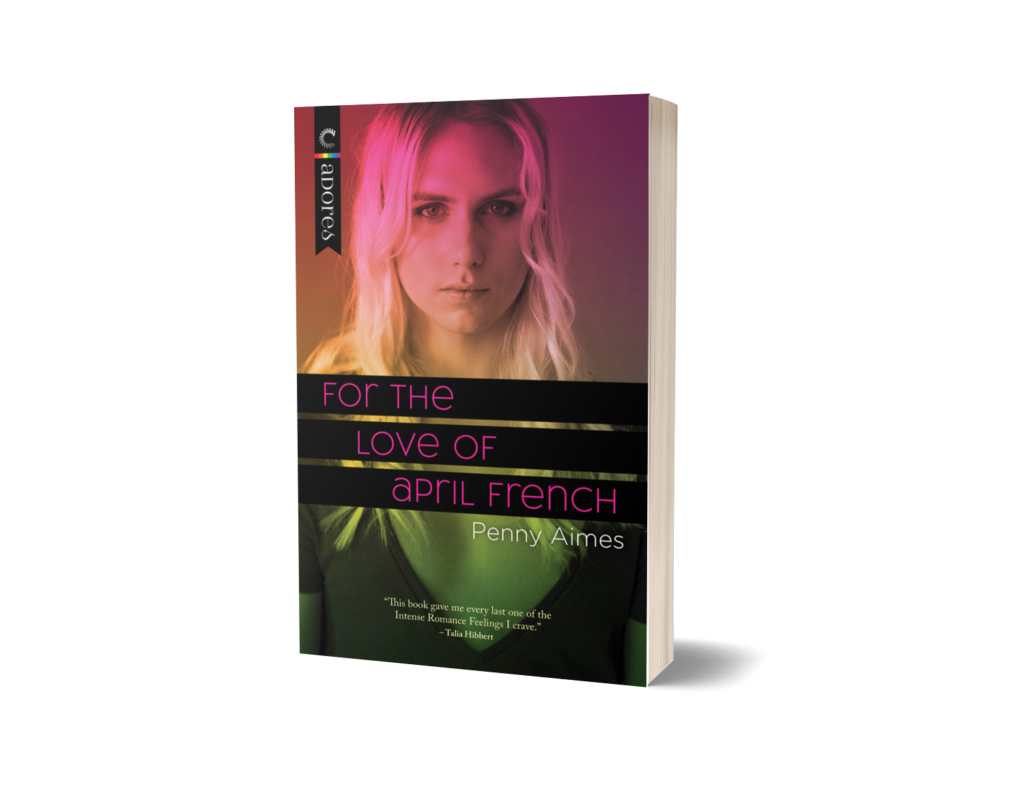 Blurb:
April French doesn't do relationships and she never asks for more.
A long-standing regular at kink club Frankie's, she's kind of seen it all. As a trans woman, she's used to being the scenic rest stop for others on their way to a happily-ever-after. She knows how desire works, and she keeps hers carefully boxed up to take out on weekends only.
After all, you can't be let down if you never ask.
Then Dennis Martin walks into Frankie's, fresh from Seattle and looking a little lost. April just meant to be friendly, but one flirtatious drink turns into one hot night.
When Dennis asks for her number, she gives it to him.
When he asks for her trust, well…that's a little harder.
And when the desire she thought she had such a firm grip on comes alive with Dennis, April finds herself wanting passion, purpose and commitment.
But when their relationship moves from complicated to impossible, April will have to decide how much she's willing to want.
Add For the Love of April French to your Goodreads!
Except
If You Love Something by Jayce Ellis (coming December 28)
D'Vaughn and Kris Plan a Wedding by Chencia C. Higgins (coming January 25)
Read on for an excerpt from For the Love of April French
April French was having what she considered to be a good night. She was lonely and she was horny, but the lovely thing about Frankie's, even on a Wednesday, was that she was probably not the only one. And the welcome wagon gambit was working. New doms always responded well to a little attention. She wondered how many of the hookups in her limited sexual history it accounted for—post-transition, of course. Her sexual history pre-transition was not only limited but singular.
On second thought, that was a depressing thing to contemplate. She decided to steer her mind back to the present, because her present was damn good-looking. He was Black, looked to be about her age, dark-skinned and tall, with narrow hips and shoulders that were probably narrower than hers, too.
There were clear hints of lean muscle under his suit, and the suit looked expensive. She didn't really care about the name brand, but she had to admit the cost was reflected in how well it draped his body. He had short-cropped, wiry hair and that sexy kind of two-day stubble thing happening. A reassuring bass voice and an unreadable calm that made his face a handsome mask. The tightly wound dominants were almost always the most fun to see come unraveled with desire.
"So. You can flirt," she said, trying to keep her voice even despite the smile tugging the corners of her mouth. It wouldn't do to tip her hand just yet about how attractive he was. "And you wear nice suits. What else should I know about you?"
"Well, I just moved here," he said. "Which you also knew. My name is Dennis. I came here from Seattle."
She nodded, as Aerith set down a new Painkiller in front of her. "I'm April. Grow up out there?"
"No," he said, shaking his head. "Illinois, actually. Little tiny town."
"Oh hey," she said, her smile shifting to be a little less flirtatious and a lot more genuine. It was always a treat to meet someone from the same basic context; someone she could count on to get it. Not that she expected to spend much time talking about growing up in the Midwest, but it was still a nice bonus. "Ohio. I went to school out East, though, and worked there for a while."
He laughed. "So a lot like me, but in the opposite direction. UC Santa Barbara."
She bobbed her head. "Wesleyan."
They exchanged graduation years; she guessed he was probably thirty-five or thirty-four to her thirty-two. "What took you out there?" he asked.
"It was as far away as I could get without driving into the
ocean," she said with a laugh. "And they had good financial aid. You?"
"About the same, about the same. Lots of loans, in the end." She nodded as he went on. "While I was getting my masters, a couple of my friends got a start-up going and brought me in, and we headed up the coast to Seattle."
"Ooh," she said. "A techie. I should've known."
"Oh? Why's that?"
"Well, most of the folks who come here from the West Coast are," she said. Especially the ones who could afford that suit.
"You're right, anyway. I was the support team, not the talent, though. My degree's in technology management." He sipped. "Start-up life isn't for the long haul, so I came here to take a job as CTO for a small firm. What about you?" he asked.
She fidgeted with the little straw in her drink, then drew it out. Chomped a cherry deliberately. "Poli-sci major. I don't use it, though."
"Hm." His eyes watched her mouth. Good. "So weird, isn't Austin where they have that political particle accelerator?"
He was smirking at his pun, and she snorted. "Queeons and Kingons?" At his blank expression, she added, "You don't read Terry Pratchett, do you?"
He shook his head. "No, I was just teasing."
Her smile snatched at the corners of her mouth again. "Teasing's okay." She was fighting herself not to relax fully into the moment, to keep up her boundaries until they crossed the preliminary hurdles. This might not be anything, yet. But he was cute, and he was funny, and he was—so far—gentle. She thought she could really like this guy. She knew she liked the way his eyes settled on her, the weight his gaze seemed to have.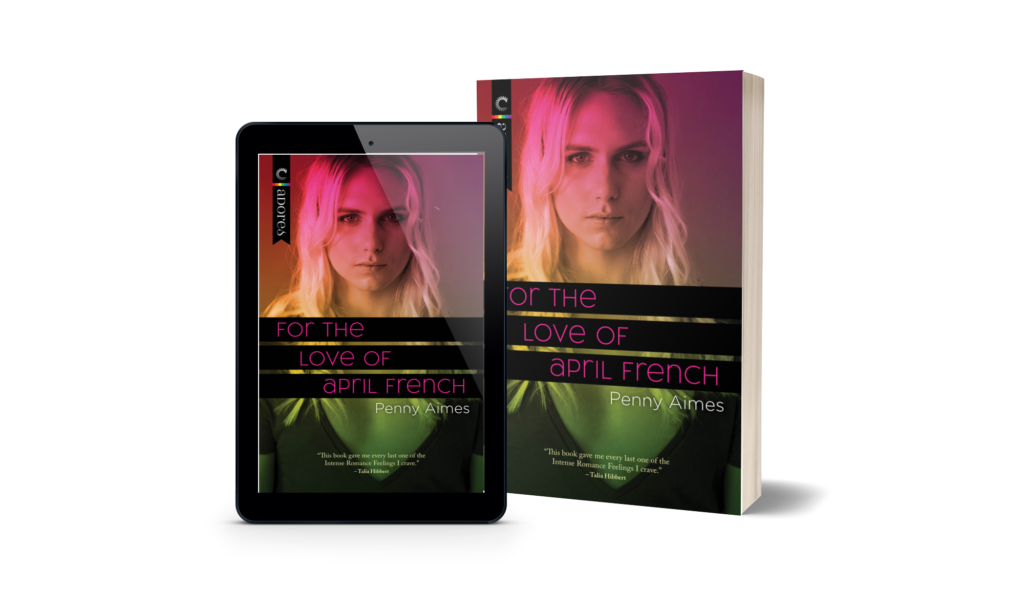 Buy For the Love of April French by Penny Aimes
Carina Adores is home to highly romantic contemporary love stories featuring beloved romance tropes, where LGBTQ+ characters find their happily-ever-afters.
Discover a new Carina Adores book every month!
Sailor Proof by Annabeth Albert (coming September 28)
Meet Me in Madrid by Verity Lowell (coming October 26)
The Life Revamp by Kris Ripper (coming November 30)
If You Love Something by Jayce Ellis (coming December 28)
D'Vaughn and Kris Plan a Wedding by Chencia C. Higgins (coming January 25)
About the Author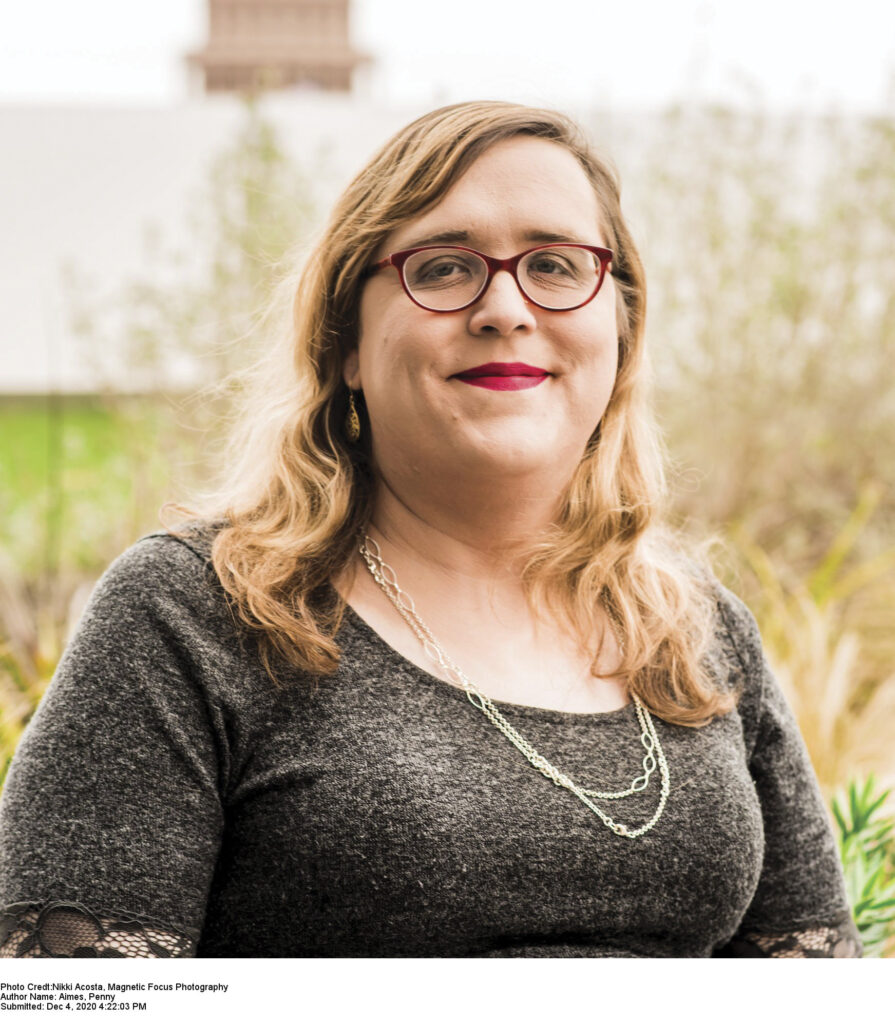 Penny Aimes is a trans woman writing contemporary romance about trans women and other people who don't always find themselves in romance novels.
She was assigned Hoosier at birth but has lived on the east coast and in China before landing in Austin, Texas. She lives in the heart of the music district with her wife and a very small bird with a very loud voice.
Connect with Penny Aimes
Website: https://www.pennyaimes.com/
Twitter: https://twitter.com/campkilkare
Goodreads: https://www.goodreads.com/author/show/20930040.Penny_Aimes
Amazon: https://www.amazon.com/Penny-Aimes/e/B08T6MN8WK