A Little Too Late by Sarina Bowen
A Little Too Late is a second chance romance story set in a small town, featuring Ava and Reed.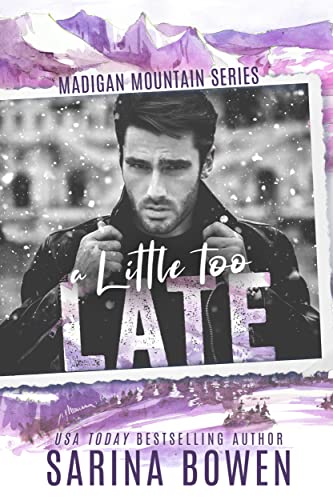 They fell in love during college, but after a tragic incident, Reed left for California. Ten years later, he returns to his family-owned ski resort where Ava works, and they get a chance to reconnect and start anew. 
Although there is a ski resort drama subplot, the overall plot falls short because the outcome is predictable. The lack of proper groveling from Reed and the fact that Ava had to be convinced to give him another chance also detracts from the story. As someone who is super picky on second chance romance this one was just ok. I found the lack of angst and grovel disappointing.
The Review
There was nothing creative in this story. It was so predictable. The author very much has a formula they use to write which can be a comfort but for me it just feels fat.  
Can we also talk about how weird it was that Ava and Reed went to college in Vermont but after they broke up she went to his small hometown in Colorado? That is weird right? Outside of Reed she had no connection to the town or the resort.
Despite these flaws, the book is a quick and pleasant read, especially for those who prefer lighter second chance romances. The wintery setting adds to the book's charm, making it a perfect read for the colder months.  
Book Stats:
Rating: 3/5
Series: Madigan Mountain
Tropes: second chance, close proximity, family series, after sports, co workers, small town