Playing to Win by Stacey Lynn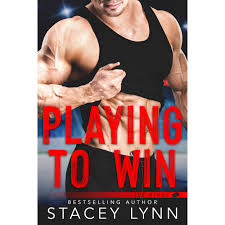 Jude and Kate met in college, a brief fling before he got the call to play in the NHL. After their first night together, the next morning he got the call to join the Caroline Ice Knights. Kate felt she needed to let him go so that I could move forward in her life. Kate is desperate for stability and normalcy after being raised by a mother who refused to put down roots. Falling for a soon to be hockey star was not in her plan. Kate Blocked Jude phone number as soon as he left for his flight.

Now 5 years later life would soon throw them together.
After dirty hit against Boston and too much media scrutiny Ice Knights Coach sends Jude home to recover in Chicago. He is rehabbing where Kate works. Jude has never been able to get Kate out his mind or his heart if he is honest with himself. He pursues her hoping for a chance to connect with him. After one night together he knows he is all in. When Jude plays he wants to win. Winning Kate over is now his number one goal.

I typically am not a fan of second chance romance but this one was amazing. The characters were so amusing, and you could feel the heat coming off the page. Jude is more than the typical athletic male. He sees his chance and regrets the way things were left so he is going to do everything he can with the time he has. Kate is paralyzed to move forward in her life. Kate is finally feeling comfortable in her life and the unknown of loving Jude scares her. This is the perfect formula of second chances, sexual tension and following your heart, plus when you add in father with crazy curses, a mother who lacks a filter and a cat who pretty much is plotting Jude's murder and you could not ask for a better love story. Playing to Win belongs on everyone's TBR list.
Playing to Win is 5 mugs full of Rich Brew Book! Stacey Lynn has a way of creating characters you are destined to fall in love with.