The Craving in Slumber: A Sleeping Beauty Mafia Romance by ML Philpitt
A Captivating Twist on a Beloved Tale – 4 Stars for "The Craving in Slumber" by ML Philpitt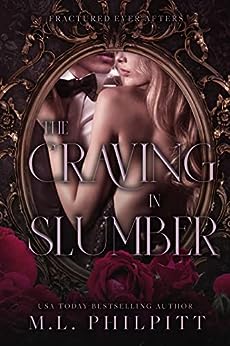 "The Craving in Slumber" by ML Philpitt is a mesmerizing reimagining of the classic Sleeping Beauty tale, woven seamlessly into the gritty world of the mafia. This unique fusion of fairy tale and organized crime sets the stage for a gripping romance that captivates readers from beginning to end.
The story introduces us to Aurora, the daughter of the powerful Corsetti mafia family, who has spent the last 14 years away from her family under the care of "Sister" in a secluded private school. As she's drawn back into the fold of her family, we witness her transformation from a sheltered girl into a formidable and beguiling young woman. Aurora is a character that intrigues from the start, and her evolution throughout the narrative is a central focus that keeps readers engaged.
Rosen Carrigan, the head soldier of the Corsetti family, assumes the role of Aurora's protector. The dynamics between these two characters drive the narrative forward. Their relationship is a delightful slow burn, filled with tension, chemistry, and moments of undeniable attraction. Aurora's penchant for taunting Rosen adds an extra layer of complexity to their interactions, making their evolving connection all the more tantalizing.
One of the standout features of this novel is ML Philpitt's exceptional writing style. The author's prose is both evocative and vivid, bringing the mafia-infused world to life with remarkable clarity. Philpitt's ability to depict the intricate details of the criminal underworld and the opulent lifestyle of the Corsetti family is commendable. The atmosphere she creates is immersive, allowing readers to easily immerse themselves in this dangerous and seductive realm.
The heart of "The Craving in Slumber" lies in the forbidden romance between Aurora and Rosen. The author skillfully navigates the complexities of their relationship, building a palpable connection that resonates with readers. The desire for this couple to find their happily-ever-after is a driving force that keeps the pages turning.
While "The Craving in Slumber" is a captivating read, a few minor flaws prevent it from earning a perfect rating. There are moments where the pacing can feel a tad uneven, and some character motivations may require a bit more exploration. However, these issues are relatively minor in the grand scheme of the story's overall quality.
"The Craving in Slumber" by ML Philpitt is a spellbinding fusion of fairy tale and mafia romance. With its magnetic characters, enchanting slow burn romance, and vividly depicted world, this novel is a must-read for fans of unconventional retellings and steamy love stories. While not without its minor flaws, the author's exceptional storytelling prowess shines through, earning this book a solid four-star rating. Dive into this dark and alluring world where forbidden love takes center stage, and experience a tale that will leave you yearning for the characters' happily-ever-after.
Book Stats:
Rating 4/5
Series: Fractured Fairytales
Tropes: bdsm, body-guard, close-proximity, dirty-talker, fairy-tale-retelling, forbidden, kink, mafia, no-3rd-act, possessive-alpha-hero, retelling, slow-burn
Pop: 67%
Review for Book 1 in the series
The Hunt in Elusion by ML Philpitt